Turkey, Kale and Sweet Potato Soup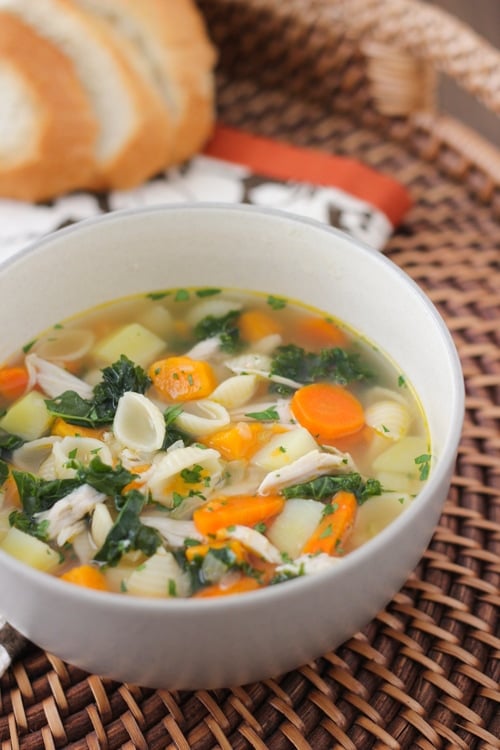 Author:
Olga's Flavor Factory
1 Tablespoon butter or oil
1 onion, chopped
1 celery stalk, chopped
2 carrots, thinly sliced
1-2 garlic cloves, minced
1 medium potato, peeled and chopped
1 medium sweet potato, peeled and chopped
8-10 cups chicken or turkey broth
¾ cup pasta (small pasta or noodles)
3 cups chopped kale
1 cup cooked turkey or chicken, shredded or cut into bite sized pieces
fresh parsley, to garnish
In a large pot, heat the butter or oil. Add the onion, celery, carrots and garlic. Season with salt and pepper. Sauté on medium heat for about 5 minutes, until the vegetables are tender.
Add the potatoes and broth. Bring the soup to a boil, reduce to a simmer and cook, covered, for 10-15 minutes, until the potatoes are cooked through.
Add the pasta and the kale, cook for another 5 minutes or so, until the pasta is cooked through.
Taste the soup and add more salt and pepper if needed. Add the fresh parsley. You can also garnish the soup with some grated Parmesan cheese.
Recipe by
Olga's Flavor Factory
at https://www.olgasflavorfactory.com/recipes/soups/turkey-kale-sweet-potato-soup/