Citrus Pineapple Punch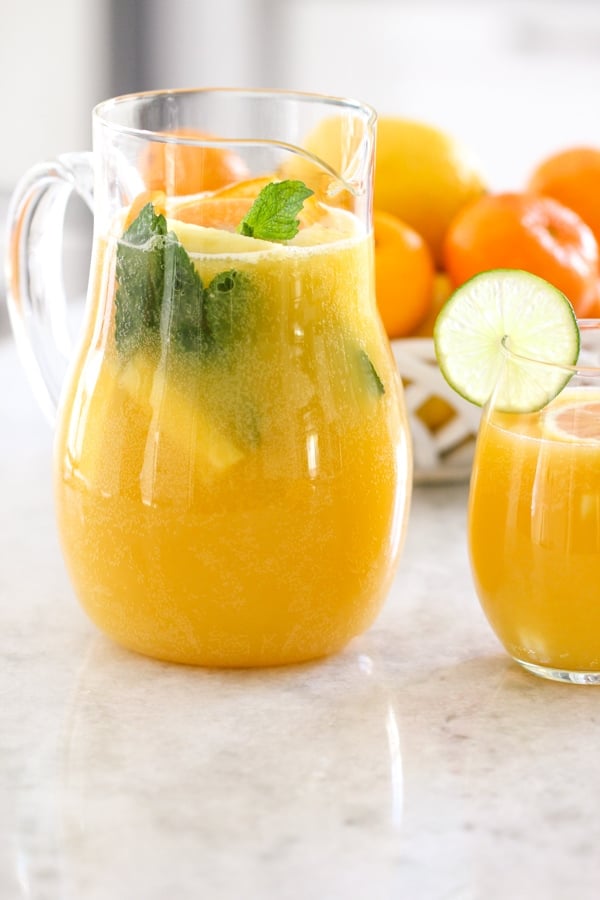 Author:
Olga's Flavor Factory
Recipe type:
Miscellaneous
1 cup pineapple orange concentrate
3 cups orange/tangerine juice
1 lemon - juiced
1 lime - juiced
1 lemon, lime, orange and mandarin, each sliced
¼ of a fresh pineapple, peeled and sliced (or 1 cup pineapple chunks)
1 bunch mint
33.8 oz sparkling soda
sugar, to taste, if needed
Combine all the juices and concentrate in a large pitcher or a large bowl. Instead of concentrate or store bought juice, you can use freshly squeezed juice. Refrigerate until ready to serve.
When you are ready to serve, pour in the sparkling soda.
Add the slices of fruit and mint to a pitcher and pour in the punch. The soda will become flat the longer that it stands and the mint will turn gray/brown. You can also use ginger ale, lemon lime or sprite soda instead of the sparkling soda.
Sweeten with sugar or honey to taste. I didn't add any additional sugar, but I don't like my drinks to be sweet, so use your own judgment. It will also depend on how sweet the juice is.