Chicken and Baked Barley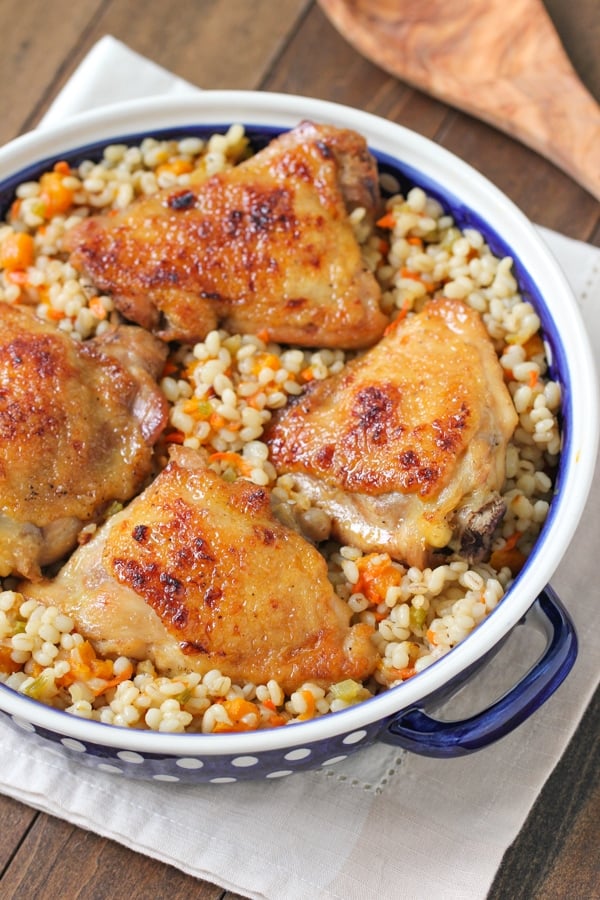 Author:
Olga's Flavor Factory
6-8 chicken thighs, bone-in, skin on
salt, ground black pepper
1 Tablespoon oil
1 onion, chopped
1½ cups peeled and chopped butternut squash
1 carrot, grated
1 celery stalk, chopped
2-3 garlic cloves, minced
1¼ cups pearled barley
2 cups broth (chicken or vegetable)
2 Tablespoons honey
1 Tablespoon lemon juice
1 garlic clove grated on microplane
Preheat the oven to 350 degrees Fahrenheit.
Trim the chicken thighs from extra fat and pat them dry with a paper towel. Season the chicken thighs on both sides with salt and pepper.
Heat the oil in a skillet on high heat. Add the chicken, skin side down first and brown for about 5-8 minutes, until the skin is golden brown. Turn the chicken over and brown on the other side as well.
The chicken will render out a lot of fat. This is actually a very important step in this recipe. If you add the chicken raw to the baking dish, it will exude a lot of fat and it will all go into the barley. Not very tasty, in my opinion. This way, you will get rid of most of the fat while browning the chicken.
Don't mess with it, leave it alone in the pan until it's ready to be turned. Set the chicken aside on another plate. You may have to brown the chicken in 2 batches, or use a large skillet.
Discard most of the fat in the skillet, leaving behind 1 Tablespoon. Reduce the heat to medium and add the onion. Cook for about 5 minutes, until the onion is softened.
Add the butternut squash, carrots, celery and garlic. Season with salt and ground black pepper. Cook for another 5 minutes, until the vegetables have softened.
Add the barley and the broth to the skillet.
Bring the broth to a boil and pour the entire barley and vegetable mixture into a 9x13 inch rimmed baking dish. Nestle the chicken on top, skin side up.
Cover the baking dish with aluminum foil or a cover and cook in the preheated oven for 45 minutes - 1 hour, until all the liquid is absorbed.
Uncover the baking dish and cook for another 10 minutes.
Meanwhile, mix the glaze ingredients in a small bowl.
Brush the top of the chicken with the glaze and broil the chicken for 3-5 minutes. Brush with more glaze before serving.