Blueberry, Cream Cheese and Almond French Toast Casserole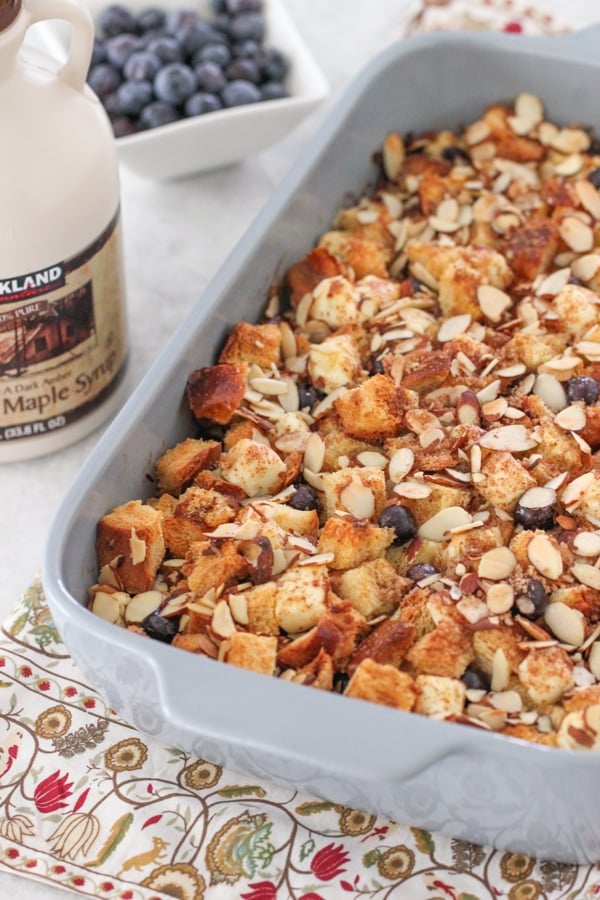 Author:
Olga's Flavor Factory
1 loaf of challah bread (14 - 16 oz), cut into ¾ - 1 inch cubes
5 cups half n half (half milk and half heavy cream)
8 large egg yolks
½ - ¾ cup granulated sugar
1-2 teaspoons vanilla extract
1 (8 oz) package cream cheese, cut into ½ inch cubes
1 pint blueberries
½ - 1 teaspoon lemon zest, optional
½ - 1 teaspoon cinnamon
3 Tablespoons butter, melted, divided
½ - 1 teaspoon cinnamon
½-3/4 cup slivered almonds
2 -4 Tablespoons brown sugar
Preheat the oven to 325 degrees Fahrenheit.
Cut the bread into ¾ - 1 inch cubes. Divide the bread between two rimmed baking sheets. Dry the bread cubes in the preheated oven for about 15 minutes, rotating the baking sheets halfway through and tossing the cubes. Take out of the oven and set aside.
It's important to use dry bread for bread pudding, so that it soaks up the custard well.
While the bread cubes are in the oven, brush a 13 x 9 inch rimmed baking dish with 1 Tablespoon of melted butter.
In a large bowl, whisk the half n half, egg yolks, sugar and vanilla extract until evenly combined. You can also use almond extract, which will complement the slivered almonds really nicely. I used ½ cup of sugar, but I don't like things to be sweet, plus, I prefer to have this French Toast Casserole with maple syrup. You might want to add more sugar, ¾ or even 1 cup total. Keep in mind that the cream cheese, the bread and the blueberries are not sweetened at all.
It's easiest to cut the cream cheese when it's very cold, so keep it refrigerated until you're ready to cut it.
Place half of the bread cubes in the prepared baking dish. Top with half of the cream cheese and half of the blueberries. You can add the cinnamon and the lemon zest right to the custard or sprinkle it on top of the bread.
Repeat with the second half of the bread cubes, then the cream cheese and blueberries.
Pour the egg mixture over the bread cubes.
Brush the top of the bread cubes with the remaining 2 Tablespoons of melted butter. You can bake the bread pudding after letting it soak for about 30 minutes, or cover it up and refrigerate it overnight.
Preheat the oven to 350 degrees Fahrenheit. If you stored the bread pudding in the refrigerator, bring it to room temperature for about 30 minutes before placing it into a hot oven.
Combine the topping ingredients - cinnamon, almonds and brown sugar in a small bowl and sprinkle it on top of the bread pudding.
Bake in the preheated oven for about 45-55 minutes. The center of the bread pudding should be 170-180 degrees. Let the bread pudding stand for about 10-15 minutes before serving.
Serve with Maple Syrup or honey.
Recipe by
Olga's Flavor Factory
at https://www.olgasflavorfactory.com/recipes/breakfast/blueberry-cream-cheese-almond-french-toast-casserole/