Almond Apple Puff Pastries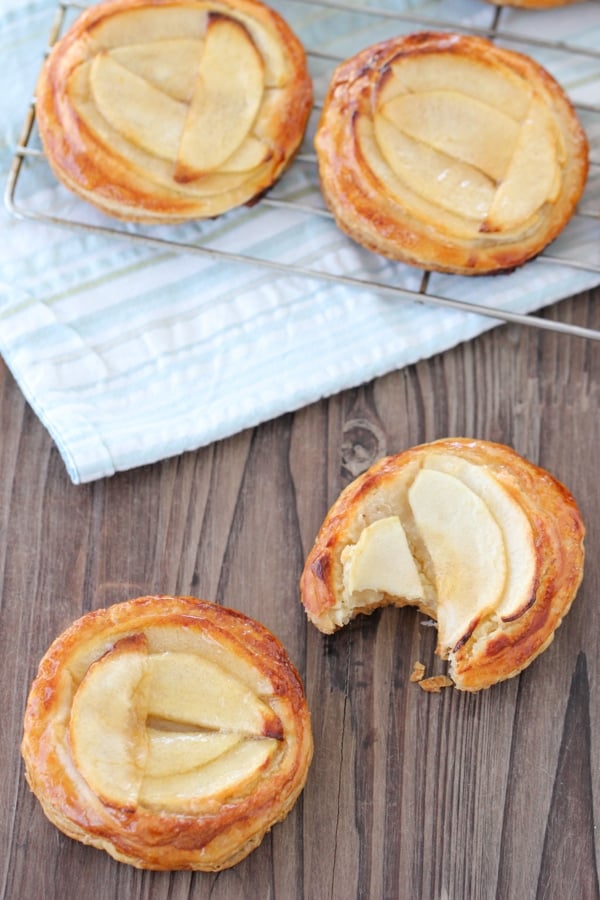 Author:
Olga's Flavor Factory
1 (1 lb) package puff pastry (2 sheets), thawed
2 apples, peel and cut into thin pieces
3 Tablespoons butter, melted brush apples with melted butter,
sprinkle with sugar
Egg wash (1 egg and 1 Tablespoon water)
½ cup apple jelly
1 cup Almond Meal/Flour
¾ cup Powdered Sugar
¼ tsp Almond Extract
1 Egg White
Preheat the oven to 400 degrees Fahrenheit. Line 2 large rimmed baking sheets with parchment paper.
Prepare the almond paste. Combine all the ingredients in a food processor until smooth. You can also just mix it by hand. If you're using store bought almond paste, add one egg white and a splash of vanilla extract to the almond paste and mix to combine until the paste is soft and workable. If you make the almond paste from scratch it will be soft and very easy to work with.
Peel and slice the apples thinly. You can also use pears in this recipe instead of the apples.
Prepare the egg wash by lightly beating the egg and water. You can use milk or cream instead of the water too.
Unfold the puff pastry and roll it out on a lightly floured counter just until the seams are evenly rolled out. Each sheet of pastry should be rolled out into 11-12 inch square.
Cut out circles out of the dough. I used a 3½ inch round cookie cutter.
Place about ½-3/4 of a Tablespoon of almond paste on top of each circle of dough and spread it out evenly, leaving a rim around the edges.
Shingle the slices of apples on top of the almond paste.
Brush the apple slices with the melted butter and sprinkle with sugar.
Brush the edges of the pastries with the egg wash.
Bake the pastries in the preheated oven for 25-30 minutes, until the pastries are golden brown. While the pastries are baking, place the apple jelly in a small saucepan and heat it up just until the apple jelly is liquid. You can also warm up the apple jelly in the microwave for about a minute. When the pastries are baked and still warm, brush the pastries with the liquid apple jelly. This will not only add more apple flavor and sweetness to these pastries, but also give them a beautiful glossy finish.
Recipe by
Olga's Flavor Factory
at https://www.olgasflavorfactory.com/recipes/sweets/almond-apple-puff-pastries/