Chicken, Mushroom and Buckwheat Casserole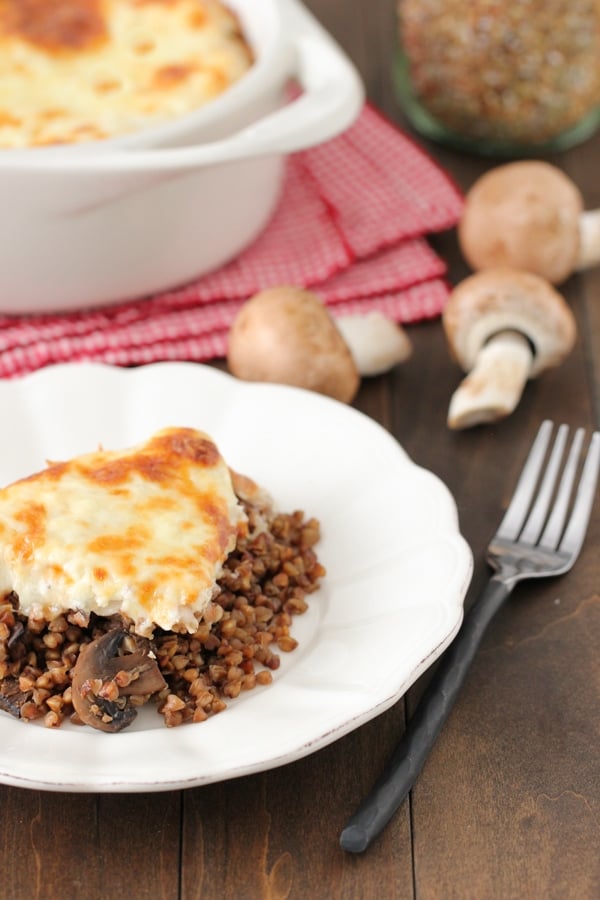 Author:
Olga's Flavor Factory
½ oz. dry mushrooms (I used porcini)
1 Tablespoon butter or oil, plus 1 more Tablespoon to butter/oil the casserole dish
1 onion, chopped
8 oz. fresh mushrooms, sliced
1-2 garlic cloves, minced
¾ cup buckwheat, roasted
1½ cups water
2 boneless, skinless chicken breast halves (you can also use boneless, skinless chicken thighs)
salt, ground black pepper, to taste
2 Tablespoons sour cream or mayonnaise
¾ - 1 cup cheese, finely grated (mozzarella, provolone, monterey jack, gruyere, cheddar, colby, etc.)
Preheat the oven to 350 degrees Fahrenheit. Generously butter a 2 quart casserole dish on the bottom and sides.
Pour boiling water over the dry mushrooms to rehydrate. Set aside for 10 minutes, until they soften. When they soften, strain the liquid through a fine mesh sieve lined with a paper towel. Dry mushrooms are very gritty, so you definitely want to take extra care to make sure you get rid of all the grit. This mushroom liquid is very flavorful, so we will use it to cook the buckwheat. Add enough hot water to the measuring cup to have a total of 1½ cups of liquid. Set aside. Finely chop the dry mushrooms.
Meanwhile, heat the butter or oil in a large deep skillet on medium heat. Add the onion, season with salt and pepper. Cook for 3-5 minutes, until the onions are tender.
Add the fresh mushrooms, dry mushrooms and garlic. Season with salt and ground black pepper. Cook for 6-8 minutes, until the mushrooms are golden.
Add the buckwheat to the skillet and roast it in the skillet with the mushrooms for about 2 minutes.
Pour in the mushroom liquid, bring to a boil, reduce to a simmer, cover and cook on low heat for about 10 minutes, just until most of the liquid is absorbed.
Transfer the buckwheat mixture to the prepared casserole dish and spread it out in an even layer.
Cut each chicken breast in half horizontally and then in half. It will be easier to serve it you cut it into smaller pieces. Season with salt and pepper on both sides. Place the chicken on top of the buckwheat.
Spread the sour cream or mayonnaise over the chicken and top it all with the cheese.
Bake in the preheated oven for about 25 minutes, until the chicken is cooked through and the cheese is bubbly and golden.
Recipe by
Olga's Flavor Factory
at https://www.olgasflavorfactory.com/recipes/main-course/poultry/chicken-mushroom-buckwheat-casserole/