Creamy Potato, Leek and Celery Soup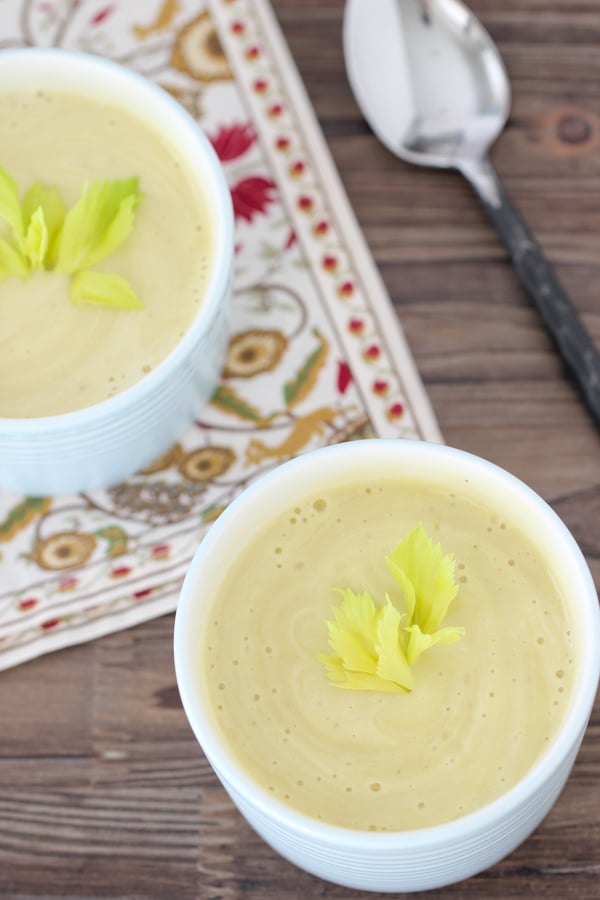 Author:
Olga's Flavor Factory
1 onion, chopped
3-4 celery stalks, chopped
2 leeks, sliced
3 garlic cloves, minced
2 Tablespoons butter or oil
½ of a medium celery root, peeled and chopped
3 medium potatoes, peeled and chopped
4-5 cups chicken broth (or vegetable broth)
¼ - ½ cup heavy cream, optional
Salt, ground black pepper, to taste
Prep all your soup ingredients.
Slice the leeks. Peel the celery root and cut it into small chunks.
Sauté onion, leeks, celery and garlic in butter or oil for about 8-10 minutes, on medium heat, covered, until tender and slightly golden. You really want to get the vegetables to be soft and start to get slightly brown in spots, since this will give them a sweeter, roasted and more concentrated flavor. Add the celery root during the last 5 minutes of sautéing.
Add the potatoes and broth. Bring to a boil and then reduce the heat to a simmer. Cook, covered, until potatoes are cooked through, about 15 more minutes.
Purée soup in two batches in a food processor until smooth.
Return the soup to the pot and add the heavy cream, if you're using it. The soup will be delicious without the cream, so you don't have to add it if you don't want to. I think it makes the soup more velvety and creamy, so I like to add it. Heat it through.
Serve the soup garnished with fresh herbs or the leafy celery tops. You can also garnish the soup with Croutons.
Recipe by
Olga's Flavor Factory
at https://www.olgasflavorfactory.com/recipes/soups/creamy-potato-leek-celery-soup/