Guava and Cheese Pastries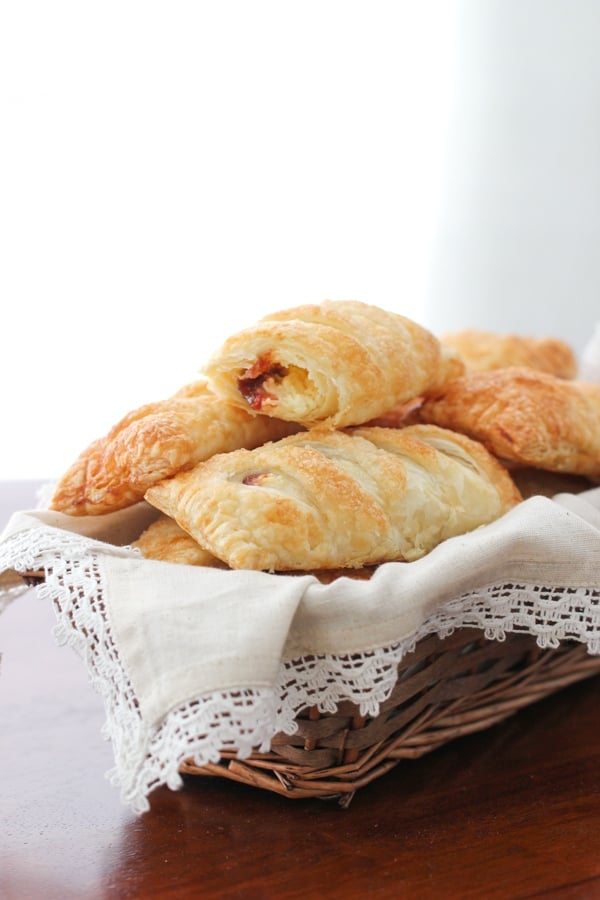 Author:
Olga's Flavor Factory
2 sheets of prepared puff pastry; each one 12 oz
5 oz. guava paste, about ⅔ cup
1 (8 oz.) package cream cheese, softened
1 egg yolk for the cheese filling
1 egg plus 1 Tablespoon water, for egg wash
¼ cup granulated sugar, plus extra for sprinkling on top of the pastries
1 teaspoon vanilla extract
Preheat oven to 375 degrees Fahrenheit.
Cut each sheet of dough into 6 (3 inch x 4 inch) pieces.
In a medium bowl, place the guava paste. It is really stiff, so add a few spoonfuls of boiling water to it and mix it up to make it easier to work with.
Mix the cream cheese, egg yolk, sugar and vanilla until smooth in consistency.
Whisk the whole egg and 1 Tablespoon of water together. This will be the egg wash.
Place 1½ - 2 Tablespoons of the cream cheese filling down the center of each pastry, leaving some room around the edges. Place about 1 Tablespoon of the guava paste either next to the cream cheese filling or right on top of it.
Brush the edges of the pastry dough with egg wash.
Fold the dough over the filling and pinch the edges with your fingers.
Use a fork and press down all around the edges to crimp shut, creating a rectangular shape.
With a sharp knife, make diagonal slashes across the top of the pastries.
Brush them with more egg wash and sprinkle with some sugar.
Arrange the pastries on a parchment lined, rimmed baking sheet.
Bake for 25-30 minutes, until golden brown.
Recipe by
Olga's Flavor Factory
at https://www.olgasflavorfactory.com/recipes/sweets/guava-and-cream-cheese-pastries/