Deluxe Veggie Omelet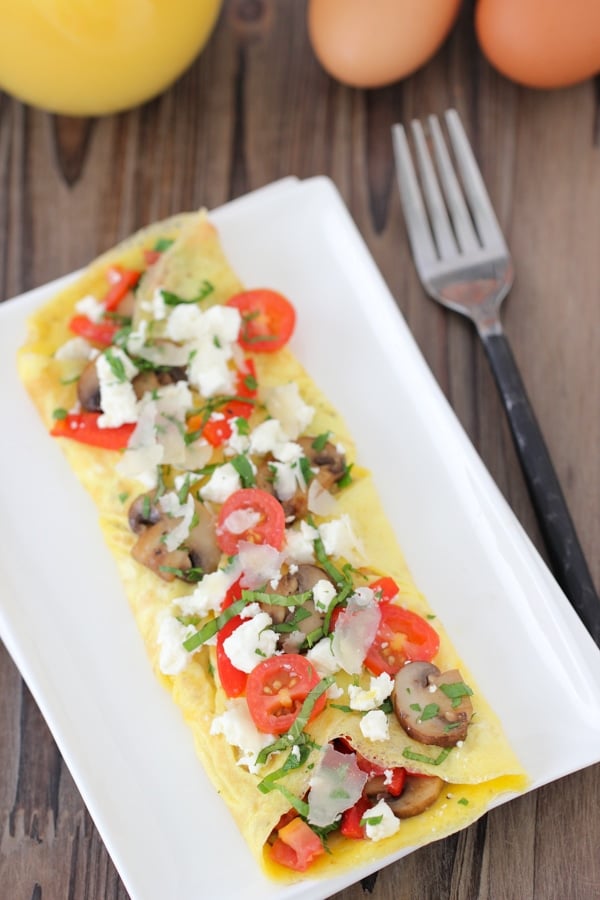 Author:
Olga's Flavor Factory
4 eggs
2 Tablespoons half n half (or milk or heavy cream)
salt, ground black pepper
2 Tablespoons butter or oil, divided
1 very small onion, sliced
2-4 oz fresh mushrooms (baby bella, button or any other kind of mushrooms), sliced
1 large handful baby spinach
¼ cup roasted red peppers, julienned
¼ cup cherry tomatoes, sliced
4 Tablespoons feta cheese, crumbled
2 Tablespoons Parmesan cheese, shaved or grated
1 Tablespoon fresh basil and parsley, chopped
Whisk the eggs, half and half, a pinch of salt and ground black pepper until the eggs are evenly mixed. (Half and half is a dairy product that is basically half milk and half heavy cream. You can use milk or heavy cream instead also.)
In a 10 inch nonstick skillet, heat up ½ Tablespoon of butter or oil. Add the onions and cook until tender, about 3 minutes.
Add the mushrooms, season with salt and ground black pepper and cook for another 5 minutes or so. The mushrooms and onion should start to turn golden brown. Take them out of the skillet and set aside. Wipe out the skillet.
Add ½ Tablespoon of butter and melt it on medium heat. When the butter stops sizzling, pour in half of the egg mixture into the skillet. You should hear it sizzle gently. Swirl the eggs around the pan. As the eggs set on the bottom, gently push them towards the center of the pan and swirl the pan so the liquid eggs will flow to the sides. Keep pushing the set eggs toward the center and swirling the pan, until most of the liquid eggs are dispersed evenly over the surface of the omelet. This is a very quick process and shouldn't take long at all.
When the bottom of the omelet sets but the top is still runny, add half of the mushroom mixture to the center of the omelet, top with half of the baby spinach, half of the roasted red peppers and half of the tomatoes.
Using a small, very thin spatula, fold the first side over the middle of the omelet. Fold the other side over the middle also, to make a neat omelet.
Slide the omelet out of the skillet and onto a plate. Top with half of the feta cheese and half of the Parmesan cheese. As the cheese settles into the hot omelet, it will start to get soft and melted.
Repeat with the rest of the ingredients. Garnish both omelets with fresh basil and parsley. Serve immediately.