Carrot and Mushroom Brown Rice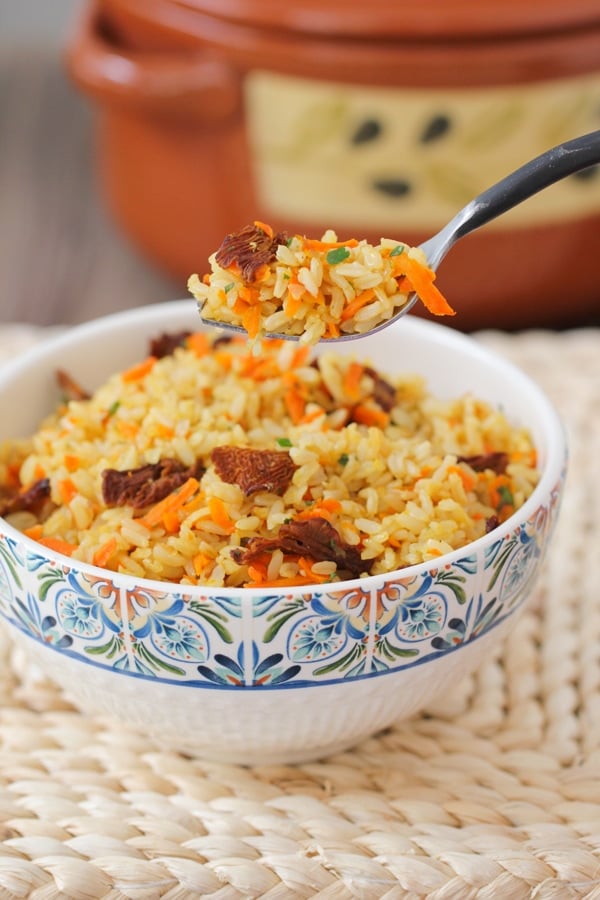 Author:
Olga's Flavor Factory
1½ cups brown rice
1 Tablespoon butter or oil
2⅓ cups boiling water
½ teaspoon salt
1 Tablespoon butter or oil
1 onion, chopped
1 carrot, peeled and grated
1-2 garlic cloves, minced
1½ cups dry chanterelle mushroom (you can also use about 8-10 oz fresh mushrooms, any kind)
1 spring of thyme
1 -2 Tablespoons chopped fresh parsley
salt, ground black pepper to taste
Oven Baked Brown Rice:
Preheat the oven to 375 degrees Fahrenheit. Spread the rice out in an 8 inch square baking dish. Add the butter, boiling water and salt on top of the rice.
Cover the baking dish with a lid or foil and bake for 1 hour in the preheated oven. Fluff with a fork.
Rehydrate the dry mushrooms by pouring boiling water over them and allowing to stand for at least 15 minutes. Since chanterelles are on the tougher side, I actually prefer to place them in a small saucepan, cover the mushrooms with water, bringing to a boil and cooking for about 15 minutes.
Scoop the mushrooms from the top of the liquid. The sand will settle to the bottom of the saucepan, so you don't want to drain the mushrooms, because that will pour all that sand back over the mushrooms. Drain the mushroom liquid through a sieve lined with a coffee filter, paper towel or cheesecloth. Reserve the liquid.
Meanwhile, in a skillet, heat the butter or oil. Add the onion, season with salt and pepper. Cook for about 5 minutes on medium heat until the onions are tender and starting to turn lightly golden.
Add the carrot and garlic, seasoning with salt and ground black pepper, and cook for another 3-5 minutes, until the carrots are tender.
Add the thyme sprig and the rehydrated mushrooms. Mix to combine.
Pour the reserved mushroom liquid into the skillet, or use water. The liquid should cover the carrot and mushroom mixture at least halfway. Bring the liquid to a simmer, cover the skillet, and reduce the heat to a simmer. Cook until the mushrooms are tender and have absorbed all of the liquid. Discard the thyme sprig.
Add the carrot and mushroom mixture to the cooked brown rice. Add the chopped fresh parsley. Mix to combine and serve.
Reheat the rice in a skillet or the microwave. It freezes really well too, so you can eat half of the rice and freeze the other half.
Recipe by
Olga's Flavor Factory
at https://www.olgasflavorfactory.com/recipes/main-course/carrot-and-mushroom-brown-rice/