Butternut Squash and Apple Oatmeal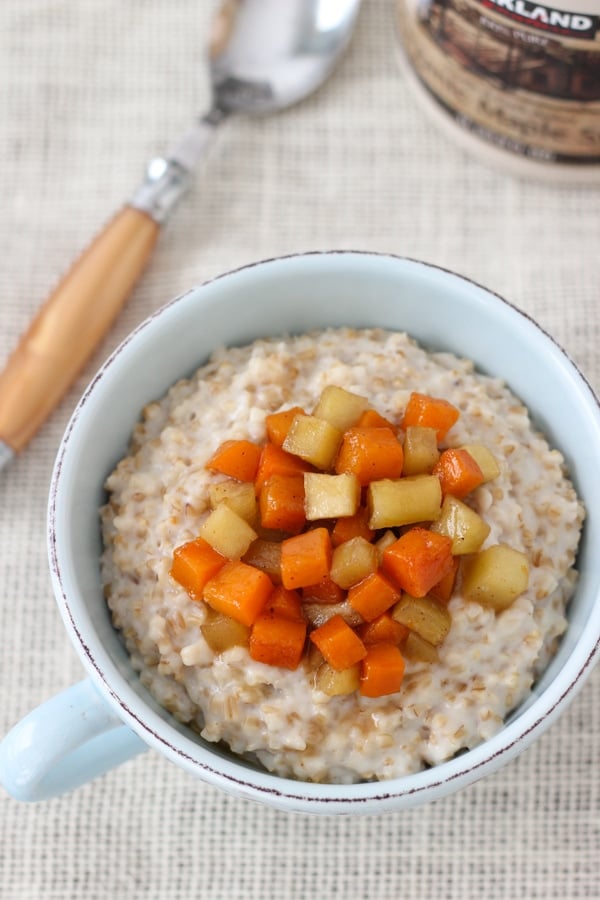 Author:
Olga's Flavor Factory
3 cups water
1 cup milk
1 Tbsp butter
1⅓ cup steel cut oats (you can use old fashioned oats too)
½ teaspoon salt
1½ Tablespoons butter
1½ - 2 cups chopped butternut squash
2 cups chopped apples (about 2)
maple syrup, to taste (about ¼ cup for me)
½ teaspoon ground cinnamon
1 teaspoon vanilla extract
Pour the water and milk into a medium sized saucepan and bring to a simmer on medium low heat.
Meanwhile, melt the butter in a skillet and add the oats. Stir to combine and cook for about 1-2 minutes, just until the oats start to smell nutty.
Add the oats and salt to the hot liquid in the saucepan, stirring to combine. Cook, covered, at a simmer, for about 20 min.
Uncover and cook for another 10 minutes, until most of the liquid is absorbed and the oats are soft. If you are using old fashioned oats, they will cook much quicker.
While the oatmeal is cooking, in the same skillet that you used previously, melt the butter and then add the butternut squash. (You can also use pumpkin.) Cook for 6-8 minutes, until the butternut squash softens around the edges.
Add the apple and cook for another 5-7 minutes until both the butternut squash and the apple are cooked through.
Pour in the maple syrup, stir to combine and cook until the syrup is hot. You can use brown sugar instead of the syrup to sweeten the oatmeal.
Off the heat, add the cinnamon and the vanilla. Serve this as a topping over the cooked oatmeal, or stir it into the oatmeal and mix until it's evenly distributed.
The oatmeal can be reheated, so if you have a really easy breakfast ready for the next day, just heat it up in the microwave or in a saucepan. (You may want to add a little bit more water or milk, since the oatmeal will get thicker as it stands.)
To make this oatmeal even more special, you can add about ½ cup pureed canned pumpkin to the oatmeal as soon as it's done cooking and then add the topping as well.
Recipe by
Olga's Flavor Factory
at https://www.olgasflavorfactory.com/recipes/breakfast/butternut-squash-and-apple-oatmeal/