Antipasti Stromboli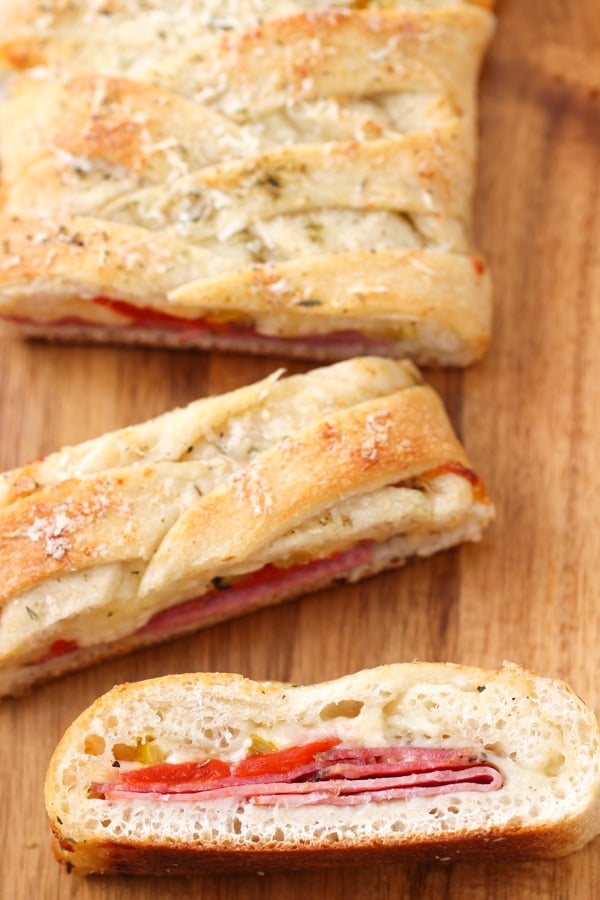 Author:
Olga's Flavor Factory
½ of a batch homemade pizza dough
4 oz ham, thinly sliced
2 oz salami, sliced
½ cup roasted red peppers
¼ cup jarred banana peppers
4-6 oz cheese, grated (Mozzarella, Provolone, etc.)
1 Tablespoon olive oil
1 teaspoon Italian seasoning
2 Tablespoons finely grated Parmesan cheese
Preheat the oven to 375 degrees Fahrenheit.
Cut a piece of Parchment paper to fit inside a half sheet sized rimmed baking sheet. Roll out the pizza dough to be approximately 15 x 10 inches and place it over the parchment paper. It's easier if you roll it out right on top of the parchment paper.
Make ¾ inch diagonal slashes along both sides of the pizza dough, leaving ⅓ of the dough in the center uncut.
Place the ham and salami down the center of the pizza dough.
Place the roasted red peppers and the banana peppers on top of the deli meat.
Top everything with the grated cheese.
Fold the strips over the filling, alternating sides, until the whole Stromboli loaf is braided. Seal the ends.
Brush the top of the Stromboli with olive oil, sprinkle with Italian seasoning and Parmesan cheese. Transfer the Stromboli along with the parchment paper to a half sheet sized baking sheet.
Bake in the preheated oven for about 20 minutes, until the Stromboli is golden brown. Cool for 5-10 minutes before cutting and serving. I like to serve this with Tomato Salsa or Ranch dressing.