Homemade Supreme Pizza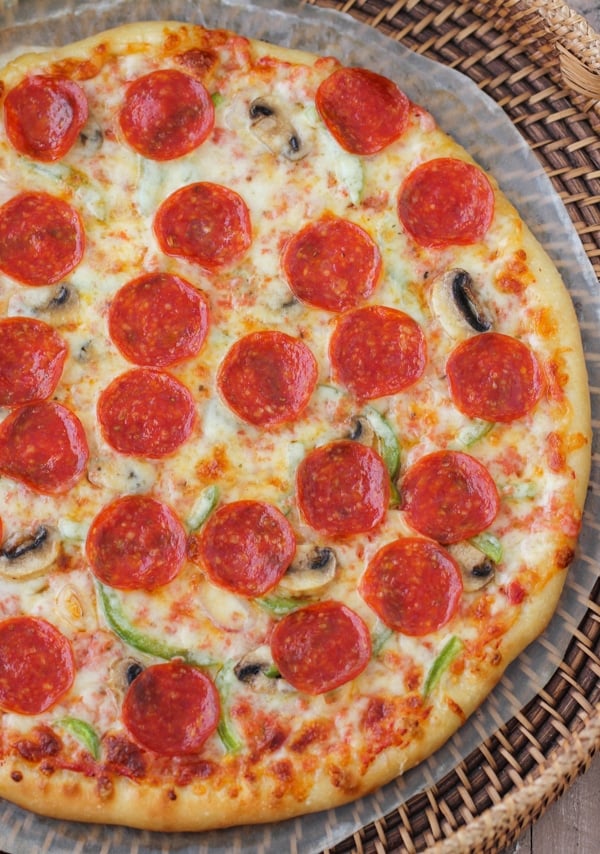 Author:
Olga's Flavor Factory
Serves:
1 (12 - 14 inch) pizza
½ of a batch of homemade pizza dough
1 Tablespoon olive oil, divided
½ (14.5) oz can crushed tomatoes
pinch of crushed red pepper flakes
salt, to taste
1-2 garlic cloves, minced
½ - 1 Tablespoon Italian seasoning
1½ - 2 cups shredded Mozzarella cheese
½ green bell pepper, julienned
1 small shallot or ¼ of a red onion, thinly sliced
4 oz sliced mushrooms, fresh or cooked
1.5-2 oz sliced pepperoni
If you're using frozen pizza dough that you thawed, let it rest at room temperature for about half an hour. Preheat the oven to 500 degrees Fahrenheit. Place the pizza stone into the oven so that it heats up too. If you don't have a pizza stone, you can use an overturned baking sheet, but a pizza stone is the secret to a really crispy crust. You want the pizza stone to heat up for at least 30 minutes.
In a skillet, heat ½ Tablespoon of olive oil, add the minced garlic, the crushed red pepper flakes and sauté for about 30 seconds, then pour in the crushed tomatoes. Season with salt and then add the Italian seasoning.
Cook, on medium heat, covered, for 5-7 minutes. Cool slightly. You can make the sauce ahead of time. (You only need half of the can for one pizza, but I always make the whole can into the sauce. You can store the remaining half in the refrigerator and use it for another pizza or use it in a sauce or soup.)
On a floured surface roll out or shape the pizza dough into a 12 - 14 inch round pizza crust, with the edge to be a bit a bit raised. I like to roll out the crust right on top of a piece of parchment paper and then cut the parchment paper around the edge, leaving about an inch all around the edges. This way, I can transfer it right to the pizza stone.
Spread the pizza sauce over the crust, leaving it off the edges. Top with the cheese and then add all the toppings. Of course, you can use whatever toppings you prefer.
Transfer the pizza with the parchment paper to a thin, large wooden cutting board or a pizza peel, using the edge of the parchment paper to move it over. Then, use the edge of the parchment paper to move the pizza over to the heated pizza stone.
Bake the pizza in the preheated (500 degrees Fahrenheit) oven for 8-10 minutes, just until the cheese is melted and the crust is golden and crisp.