Tropical Chex Party Mix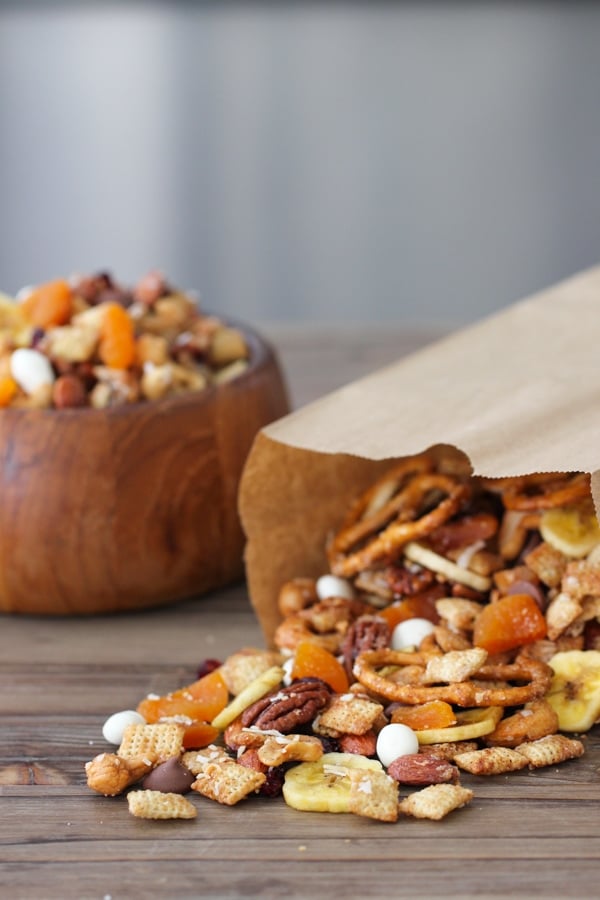 Author:
Olga's Flavor Factory
8 cups Chex cereal (I used Rice Chex)
1 cup pretzels
4 cups assorted nuts (I used almonds, cashews and pecans)
4 egg whites, whisked
⅓ cup granulated sugar
⅓ cup brown sugar
1 teaspoon salt
½ teaspoon cinnamon
1½ cups banana chips
1½ cups chocolate chips or chocolate chunks
1 cup yogurt covered raisins
1 cup craisins
1 cup dry apricots, cut in half or quarters
½ cup coconut flakes
Preheat the oven to 300 degrees Fahrenheit.
In a large bowl, mix the Chex cereal, nuts and pretzels until evenly combined.
Pour in the whisked egg whites and mix until the mix of cereal, nuts and pretzels are evenly coated in the egg whites.
Mix the sugars, salt and cinnamon in a medium bowl and then pour in to the bowl with the cereal, nuts and pretzels. Mix again until evenly coated.
Spread it out on a large rimmed baking sheet. Bake in the preheated oven for about 20 minutes, add the coconut flakes, then mix it up and bake for another 20 minutes. Cool and then break up the mix into smaller pieces.
When the mix has cooled, add the rest of the ingredients. Mix to combine.
Store in an airtight container. You can portion out the mix into small Ziplock bags for convenient snacks on the go. I also like storing the rest of the Tropical Chex party mix in a large gallon Ziplock bag to keep it fresh in my pantry.