Peanut Butter, Oatmeal and Chocolate Chip Cookies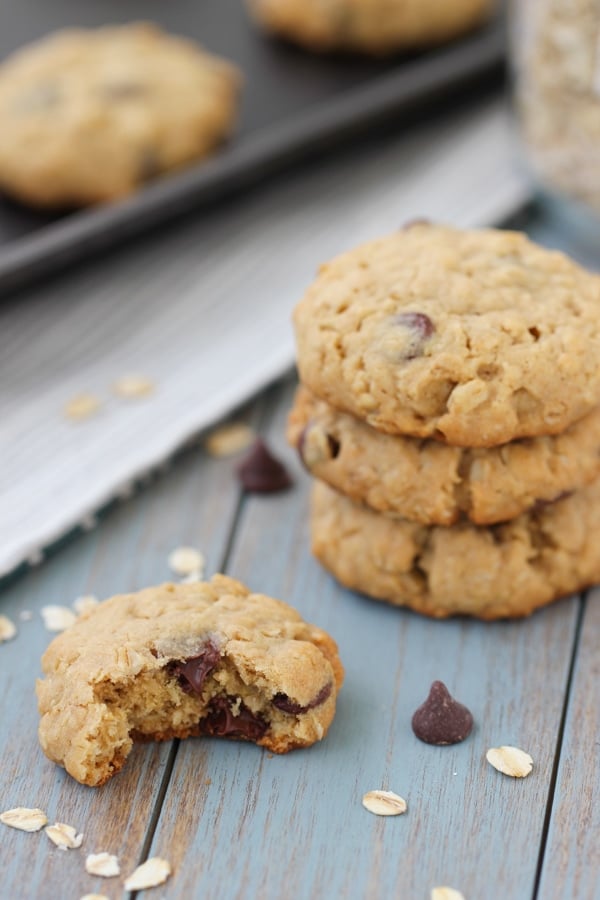 Author:
Olga's Flavor Factory
2½ cups quick-cooking oats
2 cups all-purpose flour
1 teaspoon baking powder
1 teaspoon baking soda
¼ teaspoon salt
1 cup butter, room temperature
1 cup SKIPPY® Creamy Peanut Butter
½ cup granulated sugar
¾ cup packed brown sugar
2 large eggs
2 teaspoons vanilla extract
½ - 1 (12 oz) bag semisweet chocolate chips (I used about half)
Preheat the oven to 350 degrees Fahrenheit. Line 2 baking sheets with parchment paper or grease them with oil.
Combine all the dry ingredients (oats, flour, baking powder, baking soda and salt) in a large bowl. Here's a tip. I never buy quick cooking oats, but old fashioned oats are a pantry staple in my house. For recipes that use quick cooking oats, I just pulse the old fashioned oats in a food processor a bit and Voila! You've got yourself quick cooking oats. Set aside.
In a large bowl of a standing mixer, using a paddle attachment or using a hand mixer, mix the softened butter, granulated sugar, brown sugar and vanilla extract until light and fluffy, 3-5 minutes. Add the peanut butter and mix until smooth. Add the eggs and mix again until smooth. Add the dry ingredients and mix just until combined, try not to over mix. Add the chocolate chips and mix to incorporate. You can add as much chocolate chips as you like. You can omit them it you prefer. You can also add raisins, nuts and/or coconut flakes.
Scoop out heaping Tablespoonfuls of the dough and roll them into balls. Place them on the prepared baking sheets and bake them in the preheated oven (350 degrees Fahrenheit) for 12-15 minutes, just until the edges are browned, but the center should still be soft. As the cookies cool, they will get harder, so you don't want to bake them too long if you want your cookies to be soft.
Serve the cookies warm with a cold glass of milk, a warm cup of coffee or tea or cooled as a snack or treat.
Store the cookies in an airtight container at room temperature. You can also freeze both the cookie dough and the baked cookies.
To freeze the cookie dough, portion the dough into 1½ Tablespoon balls, place them in a single layer in the freezer until frozen solid and then transfer to an airtight container or a freezer bag. To bake, place the frozen balls of dough on an baking sheet and bake exactly the same as you would before, except bake it a bit longer.
To store baked cookies, just place them in an airtight container or a ziplock bag in the freezer for 3-6 months.
Recipe by
Olga's Flavor Factory
at https://www.olgasflavorfactory.com/recipes/weeknight-dinners/peanut-butter-oatmeal-and-chocolate-chip-cookies/