Very Berry Cloud Cakes (The Fluffiest Pancakes In the World)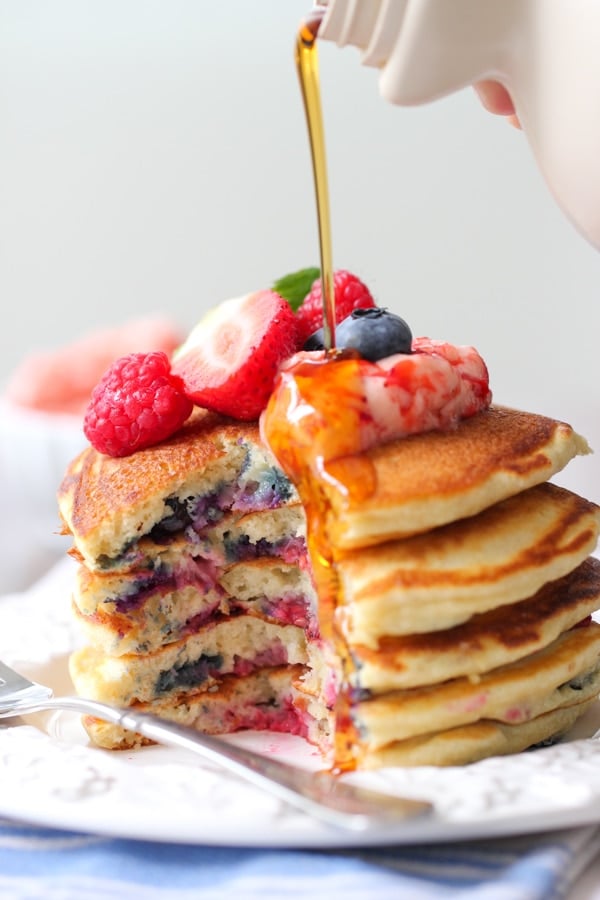 Author:
Olga's Flavor Factory
1½ cups all purpose flour
1 heaping teaspoon baking powder
1 level teaspoon baking soda
¼ teaspoon salt
¼ cup sugar
1½ cups buttermilk
2 whole large eggs, plus 2 additional egg whites
2 Tablespoons sour cream
¼ cup mild flavored oil, plus additional oil to brush the bottom of the griddle while cooking the cloud cakes
1 teaspoon vanilla extract
2 - 2½ cups mixed berries
In a large bowl, whisk together the flour, baking powder, baking soda, salt and sugar.
Separate the 2 whole eggs and place the 4 egg whites in a large bowl. Using a standing mixer with a whisk attachment or a hand mixer, whip the egg whites separately until stiff peaks form.
In another bowl, whisk together the buttermilk, egg yolks, sour cream, oil and vanilla extract.
Make a well in the center of the dry ingredients and pour in the liquid ingredients. Mix to combine until slightly combined, but leave some streaks of flour in there.
Add the whipped egg whites and gently fold it into the batter using a rubber spatula until the batter is evenly mixed.
Heat a griddle to about 325 degrees Fahrenheit (you can also use a skillet and cook the cloud cakes on the stove). Brush the bottom of the griddle with oil.
Pour about ¼ cup of the batter per cloud cake onto the griddle. Immediately sprinkle a mixture of berries over the surface of each cloud cake. You want the berries to sort of sink into the cloud cakes.
Cook until golden on the bottom and the surface of the cloud cakes have a lot of bubbles appear. Turn the cloud cakes over and cook for another 1-2 minutes.
Serve with maple syrup and/or whipped strawberry butter.
Recipe by
Olga's Flavor Factory
at https://www.olgasflavorfactory.com/recipes/breakfast/very-berry-cloudcakes-the-fluffiest-pancakes-in-the-world/