Crisp Cucumber Salad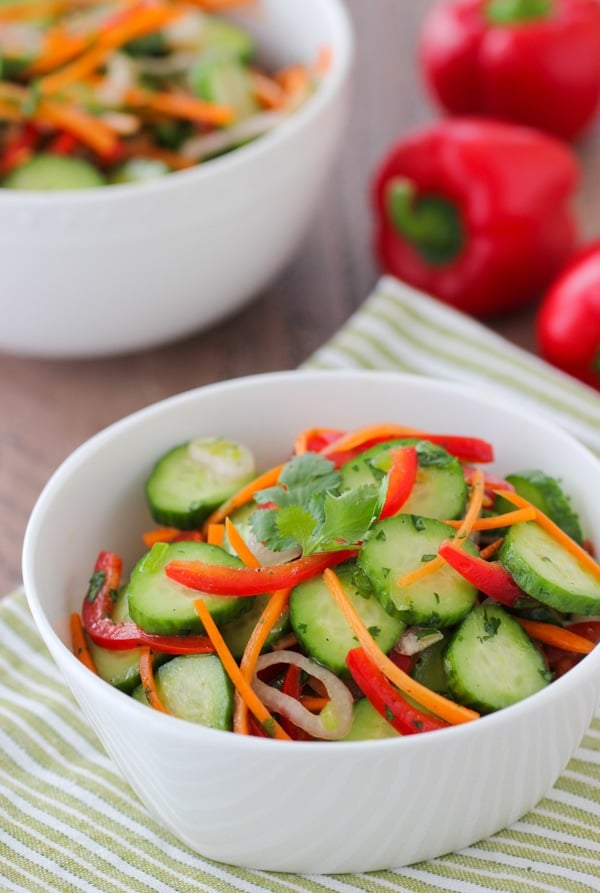 Author:
Olga's Flavor Factory
4 medium cucumbers, sliced
2 small sweet peppers (or half of a bell pepper), julienned
1 carrot, thinly julienned
1 small shallot, thinly sliced
2 green onions, sliced
fresh cilantro (or parsley), to taste, chopped
salt, ground black pepper, to taste
½ - 1 teaspoon sugar
½ - 1 Tablespoon white vinegar (you can also use apple cider vinegar, white wine vinegar, etc)
2-3 Tablespoon sunflower oil (or any other oil you prefer)
Cut all the vegetables and herbs and toss them together.
Season with salt, ground black pepper and sugar.
Pour in the vinegar and oil and mix the salad until it's evenly distributed.
Serve immediately or store in the refrigerator for a few hours. This salad is best served the same day.