Deluxe BLAT Salad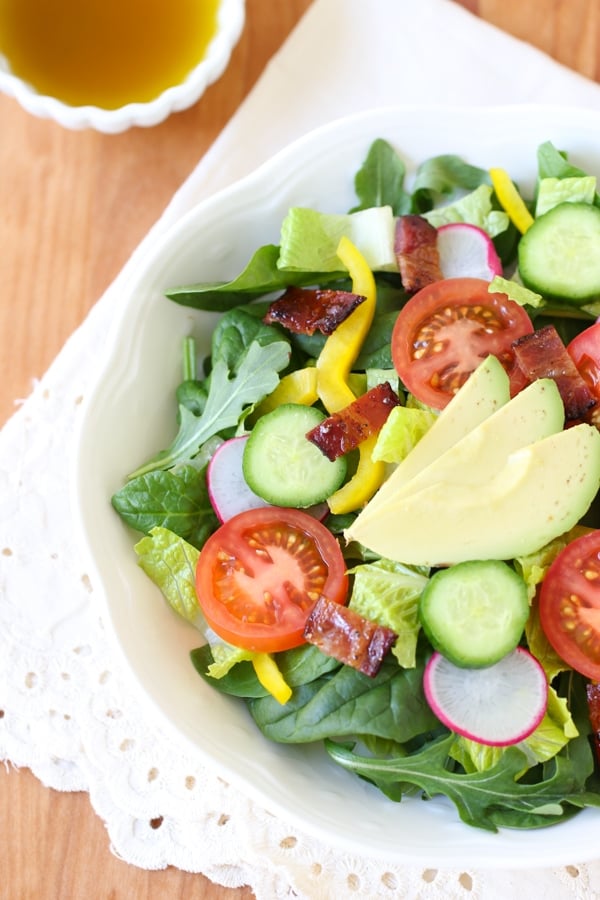 Author:
Olga's Flavor Factory
4-5 oz spinach and arugula
1 small head romaine lettuce, coarsely chopped or torn
½ orange or yellow bell pepper, julienned
4-6 small tomatoes, sliced
2 small kirby cucumbers, sliced (or half of an English cucumber)
3-5 radishes, sliced
1 avocado, sliced
4-6 strips or thick cut bacon
1 Tablespoon maple syrup
salt, ground black pepper
2 Tablespoons olive oil
1 Tablespoon red, white wine or champagne vinegar
Mix the spinach, arugula and romaine lettuce.
Slice the bell pepper, tomatoes, cucumbers and radishes.
You can do all of this in advance, but slice the avocado right before serving. You can even prep all the ingredients the night before.
For the bacon, place the bacon on a rimmed baking sheet and brush the bacon on both sides with the maple syrup and sprinkle with freshly cracked black pepper. Line the baking sheet with aluminum foil for easy cleaning later on.
Bake the bacon at 375 degrees Fahrenheit oven until golden and crisp on both sides, about 15 minutes. You may want to flip the bacon over halfway through baking. Drain the cooked bacon on paper towels and then cut the bacon into pieces.
Whisk the olive oil, vinegar together and season with salt and ground black pepper together until evenly mixed.
Serve the salad with all the vegetables and bacon on top of the spinach, arugula and romaine lettuce. Drizzle with the dressing.