Salmon and Cucumber Tea Sandwiches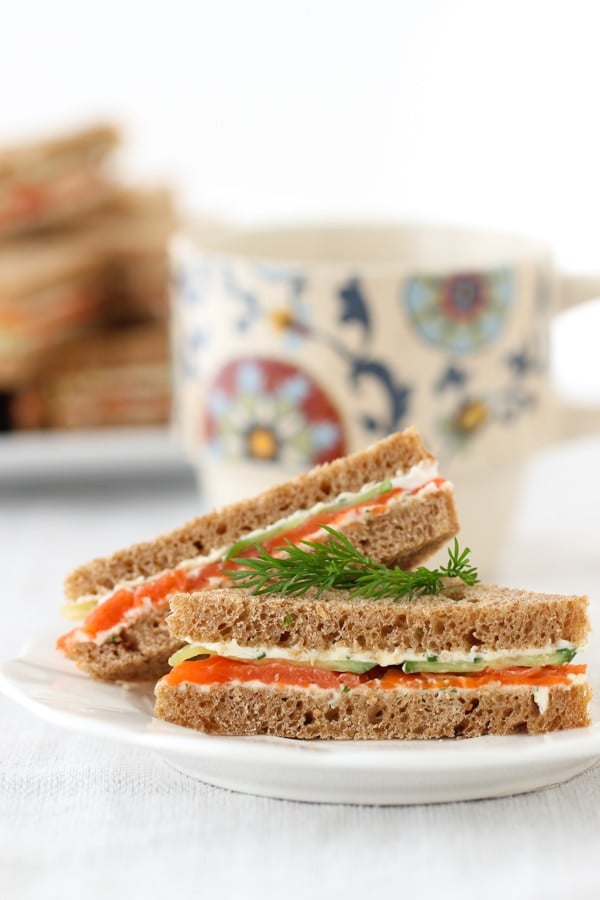 Author:
Olga's Flavor Factory
4 oz. cream cheese, softened to room temperature
2 Tablespoons butter, softened to room temperature
1 teaspoon each fresh dill and chives, minced
salt, ground black pepper, to taste
½ Tablespoon lemon juice, or to taste
10 slices dark bread (rye, pumpernickel, black, etc.)
4 oz smoked salmon, thinly sliced
2-3 small kirby cucumbers, thinly sliced (or ½ English cucumber)
In a medium bowl, combine the cream cheese, butter, dill, chives, salt, pepper and lemon juice. Mix to combine until smooth.
Spread the cream cheese mixture on a slice of bread. Place salmon on top of the cream cheese. Place the cucumbers in an even layer over the salmon. Spread more cream cheese mixture on another slice of bread and place it cream cheese side down over the cucumbers. Repeat with the remaining ingredients.
You will have 5 sandwiches total. For best results, place the sandwiches in the refrigerator for about an hour. As the cream cheese chills, it will become much easier to slice the sandwiches. Of course, you can eat the sandwich right away, but if you want to be able to slice it neatly, it's best to chill them in the refrigerator first.
Cut the crust off the sandwiches and then cut each sandwich in half and then cut each square on the diagonal. You will have 4 triangles from each sandwich, so 20 small triangular sandwiches in total.
Recipe by
Olga's Flavor Factory
at https://www.olgasflavorfactory.com/recipes/appetizers/salmon-and-cucumber-tea-sandwiches/