Lazy Lasagna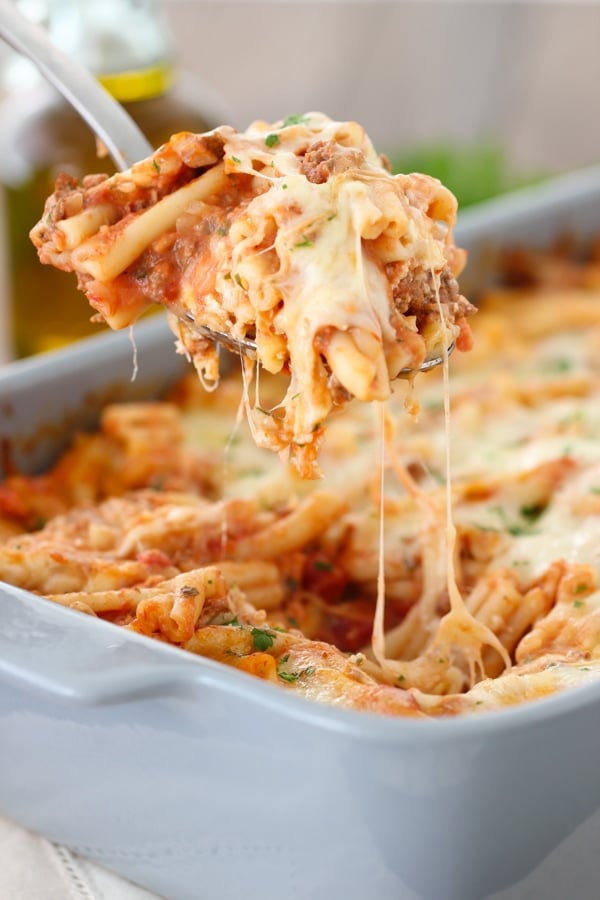 Author:
Olga's Flavor Factory
1 lb pasta (any medium size pasta shape, I used casarecce)
½ Tablespoon olive oil
¾ -1 lb ground beef
1 large onion, minced
3-5 garlic cloves, minced
salt, ground black pepper, to taste
1 Tbsp dry herbs or Italian seasoning
1 Tablespoon fresh minced parsley and basil
1 (28 oz) can crushed tomatoes
½ cup heavy cream
1 lb grated mozzarella cheese
1 lb cottage or ricotta cheese
2 eggs
½ cup Parmesan cheese
½ cup Mozzarella cheese
Salt, pepper
Garlic powder and/or grated nutmeg, optional
Preheat the oven to 350 degrees Fahrenheit. Place a large pot of salted water on the stove to bring it to a boil for the pasta. Cook the pasta about 3 minutes less than the package instructions, so that the pasta is slightly undercooked. The pasta will continue cooking as it bakes in the oven, so you don't want to cook it all the way at this point. Drain the pasta, reserving about ½ cup of pasta cooking water.
Meanwhile, in a skillet, heat the oil and brown the ground beef. It doesn't have to be completely cooked through, since it will continue cooking in the next steps. I used ¾ lb of meat, but if you like a lot of meat in your lasagna, add a whole pound.
Add the onion, garlic and season with salt and ground black pepper. Cook for about 8 minutes, on medium heat, until the onions are soft and starting to turn golden.
Pour in the crushed tomatoes and the dry herbs. I have a seasoning mix that has tons of yummy herbs in it, and you can use any combination of dry herbs that you like. Italian seasoning is great in this. Anything that has oregano, parsley, basil, rosemary, etc. will work. Mix everything together and continue cooking for another 8-10 minutes, covered, on medium low heat.
*NOTE: If you like lasagna to be very saucy, or you will be freezing the lasagna, add an extra small can of tomato sauce or crushed tomatoes.
While the sauce is cooking, mix the cottage cheese (or you can use ricotta), eggs, Parmesan cheese and Mozzarella cheese. Season with ¼-1/2 teaspoon of salt, ground black pepper. You can also add some garlic powder and/or grated nutmeg to add extra flavor to the cheese filling.
*NOTE: If you like a large layer of cheese filling, use an extra ½ lb of cottage cheese.
Turn of the heat off the sauce and add the heavy cream and fresh herbs. Pour the sauce into the cooked pasta and mix to combine. You can add the reserved pasta water to loosen it up, if it needs it.
Pour half of the pasta mixture into a 13x9 inch rimmed baking dish. Top with the cheese filling and even it out. Sprinkle ⅓ of the grated Mozzarella cheese on top of the cheese filling. Pour the rest of the pasta mixture into the baking dish and sprinkle with the remaining Mozzarella cheese.
At this point, you can put the lasagna into the refrigerator or the freezer, if you're making it in advance.
Cover with aluminum foil or a baking dish cover and bake in the preheated oven until bubbly around the edges. The time will vary greatly depending on whether you are baking it right after assembling and the ingredients are still hot, in which case, it won't take long at all, about 20 minutes or so. If you made the lasagna in advance and it's cold, it will take longer to heat through, so you'll need to bake it for at least 45-55 minutes. Uncover for the last 15 minutes to brown the cheese.