Creamy Clam Chowder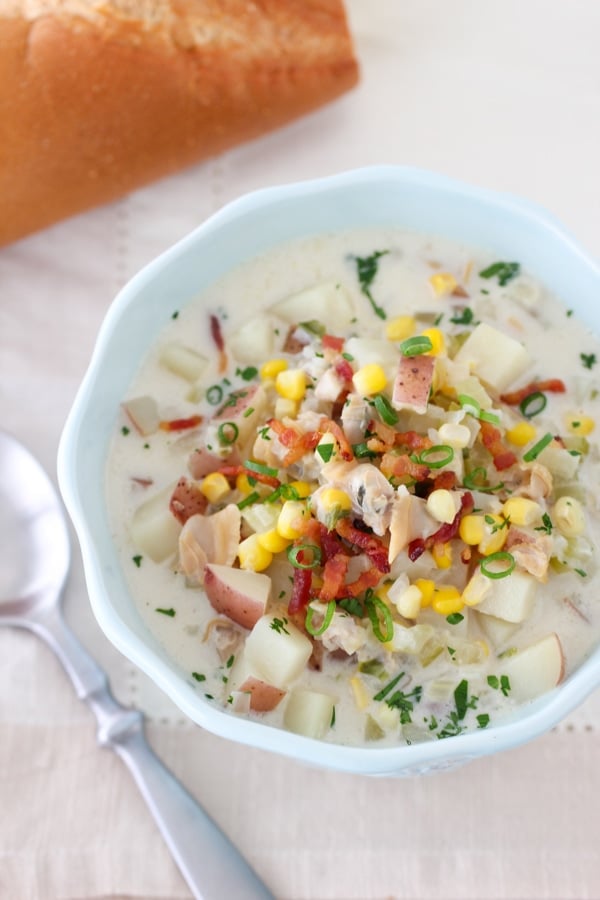 Author:
Olga's Flavor Factory
2½ - 3 lbs clams (cherry stone, little neck, middle neck, etc.)
6½ cups water, divided
4-6 strips of bacon, minced
1 onion, minced
1-2 stalks of celery, chopped
1 jalapeno pepper, minced
3 Tbsp flour
1½ lbs (about 6-7 small) red potatoes, chopped small
1 dry bay leaf
dash cayenne pepper
1 cup fresh corn
1 cup heavy cream
salt, ground black pepper, to taste
Soak the clams in cold water for 30 minutes. The clams should all be tightly closed. Discard any damaged clams. Drain the water and scrub each of the clams with a brush. Cover the clams with fresh cold water again and let them soak while you prep the rest of the ingredients.
Place the clams in a large, heavy bottomed pot or dutch oven and pour enough fresh water over them to cover the clams, about 4½ cups. Bring the water to a boil and cook the clams for about 5 minutes, just until they open up. In about 2-3 minutes, they should start to open up, so start scooping out the ones that open up and by the time the clams cook for 5-7 minutes, they should all be open. If some don't open, discard them. Strain the clam juice through a fine mesh sieve lined with a paper towel and reserve it.
Take the clams out of the shells and cut them into bite sized pieces.
Instead of fresh clams, you can use canned clams and bottled clam juice.
Wash out the dutch oven and return it to the stove. Add the bacon to the pot and cook it on medium low heat until the bacon is crisp and golden. Remove the bacon and set it to the side.
Discard all of the bacon grease except for 2 Tablespoons. Add the onion, celery and jalapeño to the bacon grease and cook until the vegetables are soft, about 5 minutes. Season with a small amount of salt (since the bacon grease is salty) and ground black pepper.
Add the flour to the cooked vegetables and stir it in, cooking for about a minute, until the flour is evenly distributed among the vegetables.
Pour in the reserved clam juice plus an additional 2 cups of water, scraping the bottom of the dutch oven to scrape all the brown bits and making sure the flour is dissolved. Bring it to a boil then reduce the heat to a simmer. Add the potatoes, bay leaf, cayenne pepper, then taste the broth to see if it needs more salt. Cook, covered, at a simmer for about 10-15 minutes, just until the potatoes are cooked through.
Add the fresh corn and the clams, cooking for another 3-5 minutes, just enough for the clams to cook through.
Pour in the heavy cream, stir to combine and add the fresh herbs.