Raspberry Swirl Cupcakes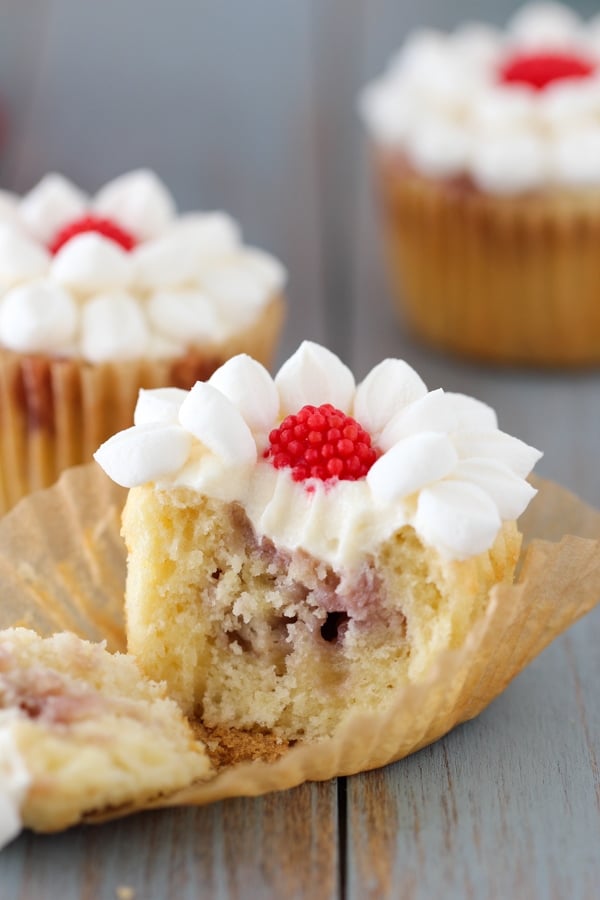 Author:
Olga's Flavor Factory
1¾ cup all purpose flour
¾ cup granulated sugar
1½ teaspoons baking powder
¼ teaspoon salt
12 Tablespoons butter, (3/4 cup), cut into 1 inch pieces, softened
3 eggs
¾ cup buttermilk
1½ teaspoons vanilla extract
1 teaspoon lemon zest
¾ cup raspberry jam or preserves
4 oz cream cheese, softened
8 Tablespoons (1/2 cup) butter, softened
1 cup confectioner's sugar
1 teaspoon vanilla extract
candy, to decorate the cupcakes (I used mini marshmallows and raspberry shaped gumdrops)
Preheat the oven to 350 degrees Fahrenheit. Line 18 muffin/cupcake baking pans with cupcake liners.
In a large bowl of a standing mixer or a large bowl and a hand mixer, place the flour, sugar, baking powder and salt. Mix to combine. Turn the mixer on low speed and add the butter one piece at a time, until the mixture looks like wet sand. Add the eggs one at a time, mixing until the mixture comes together, being careful not to over mix. Add the buttermilk, lemon zest and vanilla extract. (I usually just mix them together in a medium bowl.) Mix on medium speed until the cupcake batter is smooth.
Divide the batter between 18 cupcake liners. Add about ½ a Tablespoon of raspberry jam to the center of each cupcake and then swirl the jam in the batter with a toothpick or a butterknife to distribute it. Bake the cupcakes in the preheated oven for 18-20 minutes. Cool completely.
Meanwhile, make the frosting. Using a standing mixer or a hand mixer, mix the cream cheese and butter until smooth and then add the confectioner's sugar and vanilla extract, starting on low speed at first, or else you'll have a cloud of sugar all over the kitchen. Gradually increase the speed until the frosting is smooth and fluffy.
When the cupcakes are completely cool, use a small offset spatula or a butter knife to frost the top of the cupcakes. Since we will be decorating the cupcakes with candy, we only need enough frosting to hold the candy in place. Cut the mini marshmallows in half with scissors and cut the gumdrops in half with a sharp knife. Place the gumdrop halves in the center of the cupcakes and then place the mini marshmallows, cut side up, around the cupcakes, in a circular pattern.