Blueberry Vareniki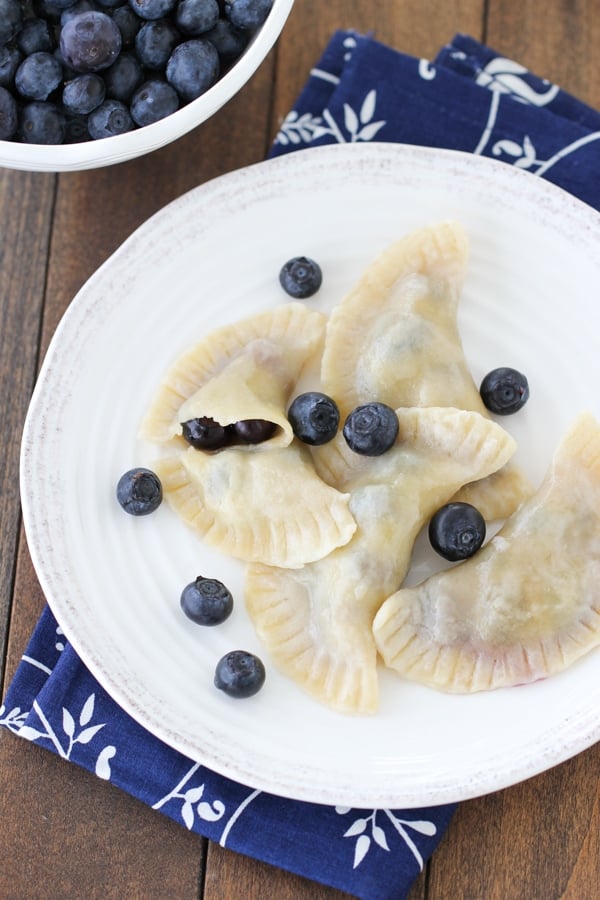 Author:
Olga's Flavor Factory
1 cup water
½ cup butter
¼ teaspoon salt
3 cups all purpose flour
1 large egg
1½ lbs blueberries
½ cup sugar
In a medium or large saucepan, bring the water, butter and salt to a boil.
Add half of the flour and mix it vigorously with a wooden spoon until all the flour is incorporated. At this point, you can transfer the dough to a standing mixer, or continue mixing it with a wooden spoon. If you're using the standing mixer, start mixing the dough on medium low speed until you no longer see steam rising from the dough. Otherwise cool the dough for about 5 minutes and then add the egg, mixing until it's completely incorporated.
Add the remaining flour and keep mixing until you have a smooth dough. Cover the dough with plastic wrap or a clean kitchen towel, so that it doesn't dry out while you are rolling it out and shaping the vareniki.
The dough is a beauty to work with. I actually didn't use any additional flour to roll it out and it didn't stick to my counter at all. Roll it out into a thin layer and then use a biscuit cutter, a cup or anything in the circle shape to cut out circles out of the dough. I have a pineapple can that my husband cut out the top and bottom off of and I use it often for projects like this one. It's about 3 inches in diameter.
Place some blueberries into the middle of the circle and sprinkle about ½ teaspoon on sugar on top of the blueberries.
Fold it in half, pinching the edges tightly to seal, trying to get as much air out of the center as you can. Use a fork to seal the edges. I ended up with exactly 46 vareniki this particular time.
Usually when I am making vareniki, I make at least double the amount. They are kind of tedious to make, so I like to get a good yield of vareniki for all my hard work. In that case, I freeze most of them and they are a great treat to have on hand. To freeze the vareniki, I line a large rimmed baking sheet or a large cutting board with parchment paper and place the vareniki on top of the parchment paper in one layer. Place them into the freezer for at least an hour, until they are completely frozen. Transfer the vareniki to a freezer bag or a sealed container and store in the freezer up to 6 months.
To cook the vareniki, bring a pot of water to a boil. Add the vareniki to the boiling water and cook for 3-5 minutes, until the vareniki float to the top and are cooked through. This dough is very tender, so be careful not to overcook them. If you are using frozen vareniki, do NOT thaw them, just put them in the boiling water right away and cook them a little bit longer, 5-7 minutes, not more.
To serve, you can serve with a little bit of melted butter and sprinkle with a bit of sugar. You can also serve them with whipped cream, sweetened sour cream, maple syrup.