Roasted Sweet Potatoes With Onions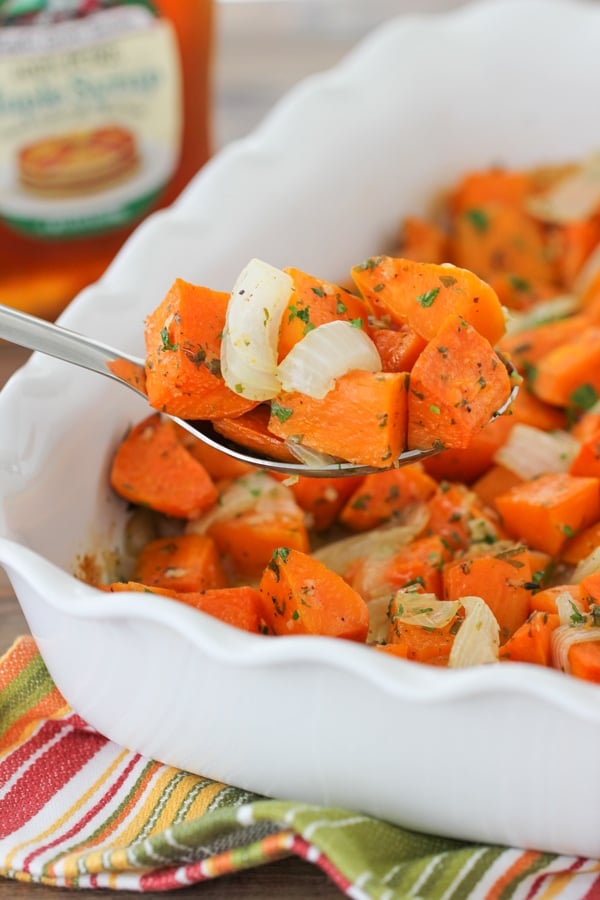 Author:
Olga's Flavor Factory
2½ lbs sweet potatoes, peeled and cut into 1 - 1½ pieces
1 large onion, peeled and cut into ½-1 inch pieces
2-3 garlic cloves, minced
1 teaspoon dry herbs, optional (such as rosemary, thyme, parsley, oregano, etc.)
1 - 2 Tablespoons fresh herbs, finely chopped (whatever you prefer - thyme, parsley, rosemary, etc.)
2-3 Tablespoons oil (avocado, olive, vegetable, etc.)
1 Tablespoon maple syrup
½ teaspoon salt, ground black pepper, to taste
Preheat the oven to 400 degrees Fahrenheit.
Peel and cut the sweet potatoes and onion. Peel and mince the garlic and finely chop the fresh herbs.
In a large bowl, combine the sweet potatoes, onion, garlic, dry and fresh herbs, oil, maple syrup and salt and ground black pepper. Mix it all to combine, so that the potatoes are evenly coated by all the ingredients.
Transfer all the ingredients into a 13x9 inch rimmed baking dish. Cover the baking dish with aluminum foil or a cover and bake for about 30 minutes, until the potatoes are cooked through.
You can also add more shredded cheese to the top of the vegetables, if you'd like.
Uncover and cook for an additional 5-10 minutes, until the sweet potatoes and the onions turn golden. If you want a more roasted/charred flavor, you can turn on the broiler during the last 5 minutes of baking.
Garnish with more fresh herbs and serve hot.
Recipe by
Olga's Flavor Factory
at https://www.olgasflavorfactory.com/recipes/ontheside/side-dishes/roasted-sweet-potatoes-with-onions/