Mini Chocolate Cupcakes With Chocolate Hazelnut Frosting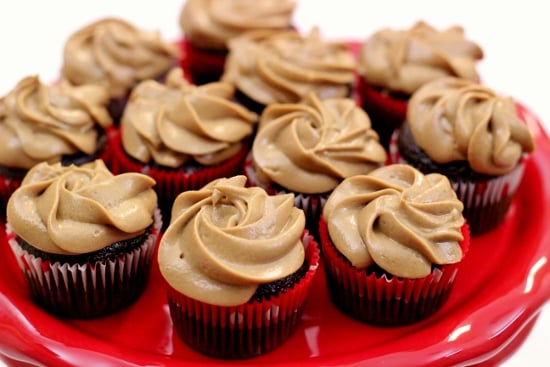 2¼ cups flour
1¾ cups sugar
¾ cup cocoa powder
1½ teaspoon baking soda
1 teaspoon baking powder
½ teaspoon salt
1 cup brewed coffee, or use instant coffee dissolved in water
1 teaspoon vanilla
1 cup oil
3 eggs
½ Tablespoon chocolate liquer, optional
2 (8 oz each) packages cream cheese, softened
1 can condensed milk
⅔ cups Nutella
2 teaspoons chocolate liquer, optional
¾ cup heavy cream, chilled
Preheat the oven to 350 degrees and place the cupcake liners in the cupcake pans.
Combine all the dry ingredients - flour, sugar, cocoa, baking soda, baking powder, and salt in a large bowl. Mix using the whisk attachment, or a hand mixer.
Add the liquid ingredients - coffee, oil, eggs, vanilla and chocolate liqueur and mix to combine.
Fill the cupcake cups about ⅔ full. Bake 10-12 minutes. Cool.
FOR THE FROSTING:
Using a standing mixer with the paddle attachment, mix the cream cheese and condensed milk until creamy and combined.
Add the nutella, chocolate liqueur (optional) and vanilla. Mix to combine.
In a chilled bowl and whisk attachment (I stick mine in the freezer before I start making the cupcakes) whip up the heavy cream until peaks form. Gently fold into the rest of the frosting. Chill the frosting in the refrigerator for at least half an hour, so it firms up.
Pipe the frosting onto the cupcakes.
Recipe by
Olga's Flavor Factory
at https://www.olgasflavorfactory.com/recipes/sweets/mini-chocolate-cupcakes-with-chocolate-hazelnut-frosting/