Russian Mushroom Barley Soup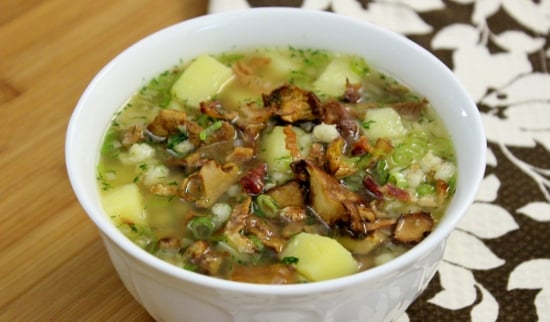 Author:
Olga's Flavor Factory
¼ cup barley, pearled
8 cups water
2-3 potatoes, peeled and chopped
3-4 strips bacon
1 onion, finely chopped
8 oz mushrooms, chanterelles (or any other)
salt, pepper
fresh herbs (dill, chives, etc), minced
Rinse the barley. Place the water and barley into a medium pot. Season with salt, bring to a boil, reduce to a simmer and cook for about 20 minutes.
Add the potatoes and continue cooking at a simmer until the potatoes are tender.
Meanwhile, cut the bacon into small pieces, lardons. Cook on medium heat in a skillet until crisp. Drain on a paper towel.
Pour out all but about 1 Tablespoon of the bacon grease. You can pour it all out and add about 1 Tablespoon of butter to the skillet. Add the mushrooms, season with salt and cook on high heat. The mushrooms will exude a lot of liquid, keep cooking on high heat until all the liquid evaporates and the mushrooms are golden.
Add the onions, season with salt and pepper. Continue cooking on medium heat until the onions are tender and just beginning to turn golden.
Add to the soup and continue cooking until the potatoes are tender. Garnish with the bacon and fresh dill and chives. Serve with sour cream.
Recipe by
Olga's Flavor Factory
at https://www.olgasflavorfactory.com/recipes/soups/russian-mushroom-barley-soup/