Creamy Chicken Salad Bites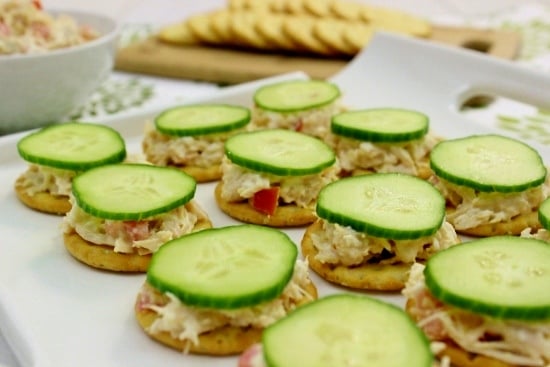 Author:
Olga's Flavor Factory
2 cans (10 oz each) canned chicken
2 hard-boiled eggs, finely shredded
1 tomato, seeded and chopped
¼ cup mayonnaise
2 Tablespoons Homemade Ranch dressing, optional
36 crackers,
1 large cucumber, seedless, sliced
Drain the canned chicken and discard all the liquid. Mash the chicken with a fork.
Finely shred the hard boiled egg. Get rid off all the seeds and liquid from the tomato and chop it finely. Mix the chicken, eggs and tomato.
Add the mayonnaise and Homemade Ranch Dressing. Mix until all the ingredients are evenly distributed.
Slice the cucumber into thin slices.
Place about 1 Tablespoon of chicken mixture on top of the crackers. Place a cucumber slice on top of the chicken mixture. Serve immediately.
Recipe by
Olga's Flavor Factory
at https://www.olgasflavorfactory.com/recipes/appetizers/creamy-chicken-salad-bites/