Blueberry Boy Bait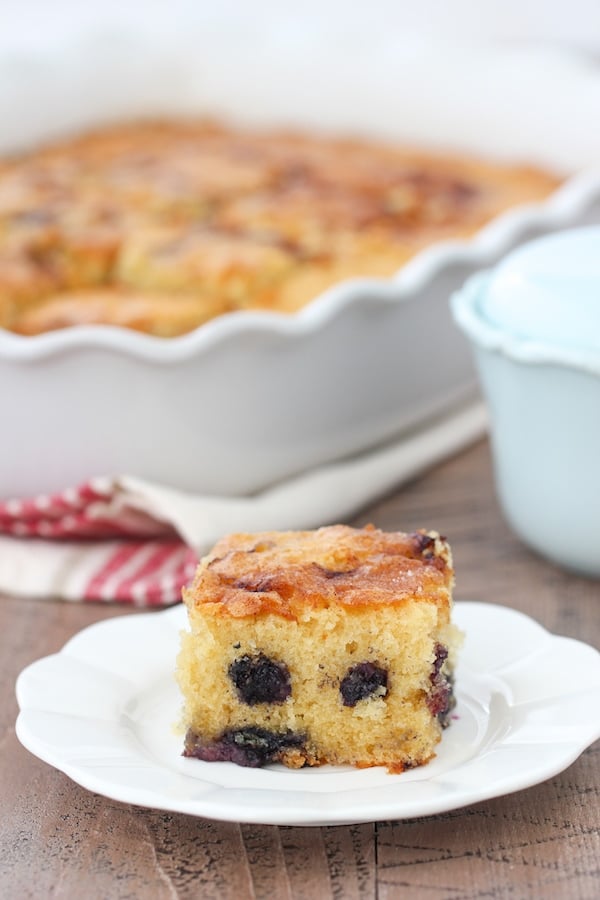 Author:
Olga's Flavor Factory
2 cups flour, + 1 teaspoon
1 Tablespoon baking powder
1 teaspoon salt
2 sticks butter, softened
½ cup brown sugar
½ cup white sugar, + 2 Tablespoons for topping
3 eggs
1 cup whole milk
¼ teaspoon cinnamon, for topping, optional
1½ cups blueberries, fresh or frozen, divided
Preheat the oven to 350 degrees. Spray a 13x9 inch baking pan with baking spray.
Whisk 2 cups of flour, baking powder, and salt in a medium bowl. Set aside.
In a standing mixer with a paddle attachment or using a hand mixer, cream the butter and brown and white sugar until light and fluffy, 3-5 minutes.
Add the eggs one at a time, mixing on low until incorporated.
Add ⅓ of the dry ingredients to the batter, mix until combined. Add half the milk. Follow by half of the remaining flour, mixing each time. Add the rest of the milk, mix and add the rest of the dry ingredients.
In a separate bowl, toss ½ a cup of blueberries with a teaspoon of flour.
Gently fold the blueberries into the batter using a rubber spatula.
Transfer the batter to the prepared baking pan and spread it out evenly. Sprinkle another 1 cup of blueberries on top of the cake.
Mix 2 teaspoons of sugar and cinnamon in a small bowl. Sprinkle the sugar on top of the cake. Bake for 40-45 minutes.