Pulled Pork and Three Ways To Use It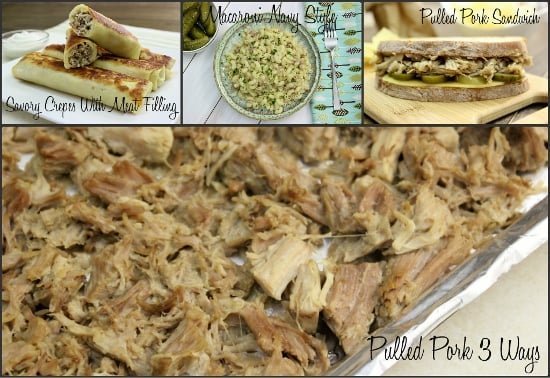 Author:
Olga's Flavor Factory
Serves:
6-7 cups Pulled Pork meat
5 lbs boneless pork shoulder also called Boston Butt
1 onion
2 garlic cloves
3-5 peppercorns
1-2 dry bay leaves
½ -1 teaspoon ground coriander
Juice from 1 lemon
salt
water, about 4 cups
Cut the pork into 1½ inch chunks.
Quarter the onion, crush the garlic cloves and place the pork, onion, garlic cloves, lemon juice, bay leaf, pepper corns, coriander into a large pot.
Pour in the water. It should barely cover the meat. Cover the pot with a lid. Bring to a boil. Season with salt. Cook for 1½ - 2 hours on low heat, keeping the water simmering until the pork is fork tender.
Stain out all the liquid and save. Discard the bay leaves, peppercorns, cooked onion and garlic. (Although the onion and garlic will be really disintegrated, but if you find any big chunks, just toss them.)
Return the liquid to the pot. Bring to a boil. Keep it boiling on high heat, with the lid off, until it reduces by half and becomes thick and almost syrupy.
Toss the meat in the reduced liquid.
Preheat the oven to a broil. Line a rimmed baking sheet with aluminum foil. Place the meat on the baking sheet.
Broil the meat for 3-5 minutes, just until the edges are browned.
You can make a whole bunch of these sandwiches all week for lunch like I do, or serve them for dinner. You can even add some barbecue sauce to the meat if you'd like.
For the pulled pork sandwich, spread mayo on the bread. Top one of the sides of the bread with a slice of cheese (whatever suits your fancy) and pickles. Place about ¼ cup of pulled pork on top of the other slices of bread. Assemble the sandwich.
You can also use the meat in many other recipes, such as Savory Meat Crepes or Navy Style Macaroni.
Recipe by
Olga's Flavor Factory
at https://www.olgasflavorfactory.com/recipes/main-course/pulled-pork-and-three-ways-to-use-it/