Savory Crepes With Meat Filling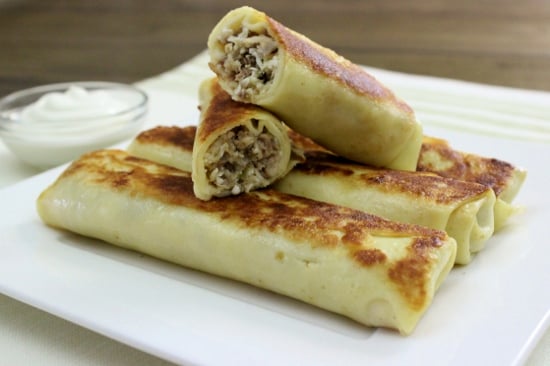 Author:
Olga's Flavor Factory
4 eggs
1½ cups milk
1 cup water
6 Tablespoons butter, melted
½ teaspoon salt
2 cups flour
5 cups cooked meat, pulled pork, beef, chicken
½ Tablespoon butter
1-2 onions, finely chopped
6 hard boiled eggs, finely grated
sour cream, to serve with the crepes
salt and pepper
oil, for cooking the crepes
Place all the ingredients for the crepes, eggs, milk, water, butter, salt and flour in a blender and mix until well combined. You can also use a whisk to mix it together. Place in the refrigerator and chill for at least 1 hour.
Heat a nonstick skillet on medium heat. Spread a bit of oil around the skillet using a paper towel. Pour about ¼ cup of batter into the hot skillet and tilt the skillet, shaking it slightly until the batter spread evenly around the skillet. Cook for about a minute, until slightly golden, flip the crepe over and cook for another 30 seconds on the second side.
Continue with the rest of the batter. Place the crepes on a round plate. Keep them wrapped in aluminum foil. This will keep the edges of the crepes from becoming hard.
Place about ¼ cup (a little bit less) of filling in the center of a crepe, and form it into a cylindrical shape .
Melt the butter in a skillet, add the onion, season with salt and cook until the onions are tender and slightly golden.
Mix the ingredients for the filling in a bowl.
Take the sides of the crepe on the left and right and fold them over the edges of the filling.
Take the bottom part of the crepe and bring it over filling and folded sides of the crepe. Roll the crepe around the filling.
Heat ½ Tablespoon of oil in a nonstick skillet on medium heat. Add the crepes. Cook until golden brown on both sides. Serve with sour cream, adzhika or Ranch dressing.
Recipe by
Olga's Flavor Factory
at https://www.olgasflavorfactory.com/recipes/appetizers/savory-crepes-with-meat-filling/