Poached Cod With Dill Sauce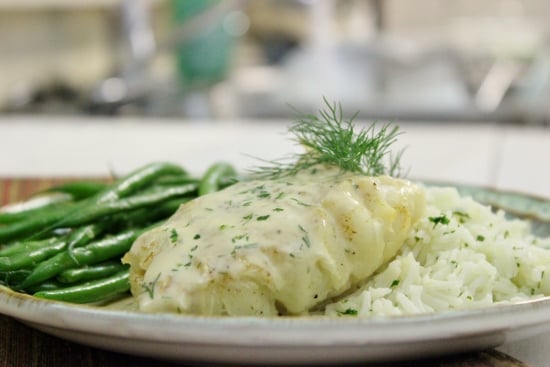 1 lb cod or any other firm white fish (snapper, tilapia, haddock, grouper)
1 onion, sliced into half circles
2 garlic cloves, crushed
3-5 parsley leaves
1-2 dry bay leaves
3-5 peppercorns
4 Tablespoons white wine, plus 1-2 Tablespoons more for the sauce
1 can (14 oz) evaporated milk
½ - 1 teaspoon Old bay seasoning
salt, pepper, to taste
1 Tablespoon butter
1 Tablespoon flour
½ Tablespoon fresh dill, minced
Season the fish with salt and pepper.
Layer the onions on the bottom of the skillet.
Add the crushed garlic cloves, fresh parsley leaves, white wine, dry bay leaf and peppercorns.
Nestle the fish on top.
Pour the evaporated milk over the fish. It should cover the fish almost completely.
Sprinkle the Old Bay seasoning and add some salt and pepper to taste to the evaporated milk.
Bring it to a boil and reduce the heat to a simmer. Keep the skillet covered and cook on low heat until the fish is cooked through, about 10-15 minutes.
You can make this dish in the oven too.
Arrange all the ingredients in a deep baking dish the same way you would in a skillet, or put the fish on the bottom and everything else on top.
Cover with aluminum foil and place in a preheated 400 degree oven.
Bake for 20-25 minutes until the fish easily flakes with a fork but isn't falling apart.
Use a slotted spoon to gently take out the fish and spoon some of the delicious liquid over it.
OR
Strain the liquid through a fine mesh sieve and set is aside.
In a skillet or small saucepan, melt butter and add the flour to it.
Cook the flour until it's completely incorporated into the butter and starts to turn just a little bit golden.
Pour in the white wine, whisking as you add it. Add the reserved poaching liquid. Cook for about 3 minutes, until the sauce thickens.
Add fresh minced dill and pour over the fish.
Recipe by
Olga's Flavor Factory
at https://www.olgasflavorfactory.com/recipes/main-course/poached-cod-with-dill-sauce/