Rassolnik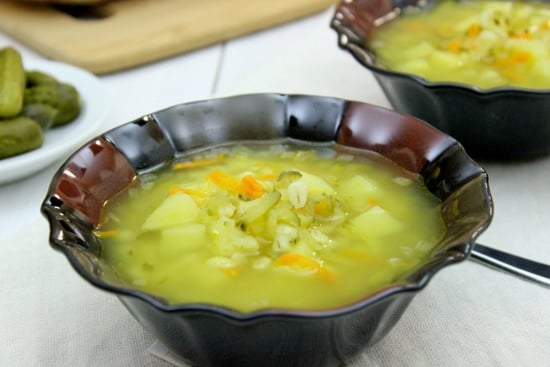 8-10 cups chicken broth (you can also use beef, pork or vegetable broth)
½ cup cooked meat, chicken, beef, pork (optional, save from making broth or cook in the broth)
2-3 potatoes, peeled and cut into small pieces
¼ cup pearled barley
½ Tablespoon butter
1 onion, minced
1 carrot, shredded
1 cup shredded pickles,
salt, pepper
serves 6-8
Bring the chicken broth to a boil.
Add the potatoes and barley to the soup. Reduce the heat to a simmer and keep the soup covered as it cooks.
Meanwhile, heat ½ Tablespoon of butter in a skillet. Add the onion and carrot. Season with salt and pepper. Cook for about 5 minutes, until they are softened. Add to the soup.
Shred the pickles on a box grater and add to the soup. You can also add a bit of the pickling brine to the soup. It gives the soup a nice zip.
Cook for 30-40 minutes, until the potatoes and barley are cooked through. Season with salt and pepper, if needed.
Garnish the soup with some finely minced herbs, parsley, dill, scallions, etc. Serve with a dollop of sour cream.