Shrimp Scampi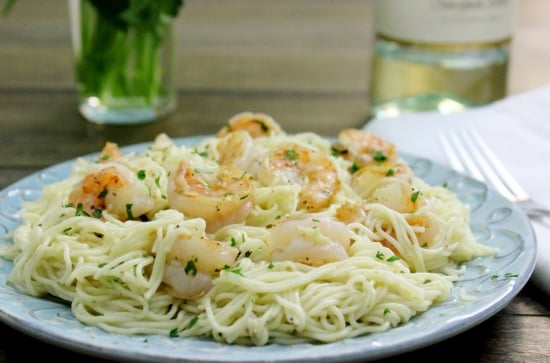 1 lb pasta (angel hair, fettuccine, spaghetti)
2 lbs shrimp, peeled, deveined
1½ Tablespoons oil
3-5 garlic cloves, minced
½ cup white wine (I use Sauvignon blanc)
1 Tablespoon butter
salt, pepper
fresh parsley, basil, minced
Bring water to a boil and cook pasta according to package instructions or how you like them, al dente or well done, whatever suits your fancy.
Meanwhile, place the shrimp on a paper towel and blot dry. Bring heat oil in a skillet.
Add the shrimp quickly to the skillet, seasoning with salt and pepper and placing it in a single layer. Cook for about 3 minutes, just until it's golden on one side and pink on both. Take immediately off the heat and place in a covered bowl to stay warm.
Add the garlic to the skillet and cook just until you smell the aroma of garlic, about 30 seconds.
Add the wine and whisk until you get all the delicious, yummy bits off the bottom of the pan. Reduce the wine on high heat for about 3-5 minutes.
Off the heat, add the butter and whisk until it melts.
Add the herbs and shrimp. Toss to combine. Toss with the pasta.