Steelhead Trout With Honey-Mustard Horseradish Sauce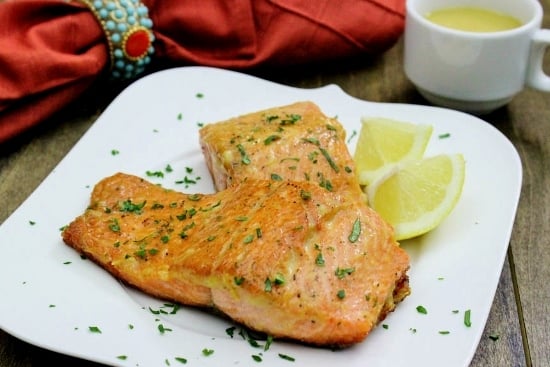 Author:
Olga of Olga's Flavor Factory
4 steelhead trout portions
salt, pepper
oil
3 Tbsp Dijon mustard
2 Tablespoons honey
2 tsp horseradish
½ Tablespoon white wine
1 Tbsp lemon juice
salt, pepper
parsley, for garnishing
Combine the sauce ingredients in a small bowl and set aside.
Blot the fish dry on a paper towel. Season with salt and pepper.
Heat a nonstick skillet over medium-high heat. Add about 1 - 1½ Tablespoons of oil and heat until the oil is shimmering and hot. Add the fish, skin side down and cook, for about 5 minutes, until the skin is golden brown. Turn the fish over carefully, (fish is delicate, so take special care when turning, so it doesn't fall apart). Cook for another 5 minutes. Poke the fish in the center with a fork. If it flakes easily, the fish is ready. Remember the fish will continue cooking even after you take it off the heat, so you may need less than 5 minutes per side if your fish is on the thinner side. Brush the sauce on top of the fish. Garnish with freshly minced parsley.
Serve with additional sauce on the side.
Recipe by
Olga's Flavor Factory
at https://www.olgasflavorfactory.com/recipes/main-course/steelhead-trout-with-honey-mustard-horseradish-sauce/