Peach Pastries With Dulce de Leche Filling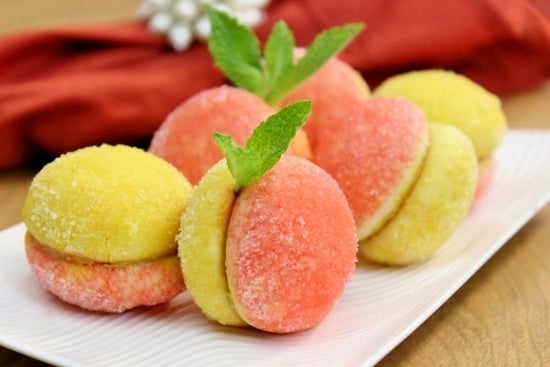 Author:
Olga from Olga's Flavor factory
4½ sticks butter, softened
1½ cups sugar
4 eggs, room temperature
1 teaspoon vanilla
6 cups flour
2 teaspoons baking powder
1 (8 oz) package cream cheese, softened
1 can dulce de leche
½ Tablespoon rum
1½ cups cookie crumbs
1-2 cups sugar
mint, for garnishing
1 cup milk
50 drops yellow food coloring
2 drops red
1 cup milk
20 drops yellow food coloring
60 drops red food coloring
Preheat the oven to 350 degrees. Line a rimmed baking sheet with parchment paper.
Cream the butter and sugar in a bowl with the paddle attachment on a standing mixer or using a hand mixer until fluffy.
Add eggs and vanilla and mix until combined.
Whisk the flour and baking powder in a small bowl until mixed. Add to the cookie batter and mix just until incorporated.
Form balls about 1 Tablespoon each and place about 1½ inches apart on the prepared baking sheet.
Bake for about 11 minutes. Cool.
Using a small paring knife or a butter knife, cut out a circle from the center of the bottom of the cookie, leaving a small border on the outside. Scoop out the center. Be very gentle when doing this since the cookie is very fragile and may break if you're not careful.
Save the cookie scraps, you will need them later.
Mix the cream cheese and dulce de leche until well mixed.
Add the rum and mix. Crumble the reserved cookie crumbs and scraps with your hands. Add the cookie crumbs to the filling and mix to combine.
Fill the scooped out center of the cookie with the filling using a small spoon or a butter knife, spreading a thin layer of the filling on the rim of the cookie too.
Place two of the cookies filling side together and gently press together.
Take 3 small bowls and fill one with sugar and the other two with the dyed milk. Dip half of the pastry in the Orange/Yellow liquid and coat in the sugar.
Dip the other side of the pastry in the Red/Orange liquid and also dip in the sugar.
Place the pastries on an aluminum lined cookie sheet and dry for at least 1 hour. Right before serving, place a mint leaf in the center of some of the pastries.
Recipe by
Olga's Flavor Factory
at https://www.olgasflavorfactory.com/recipes/russianrecipes/peach-pastries-with-dulce-de-leche-filling/