Thanksgiving Challah Herb Dressing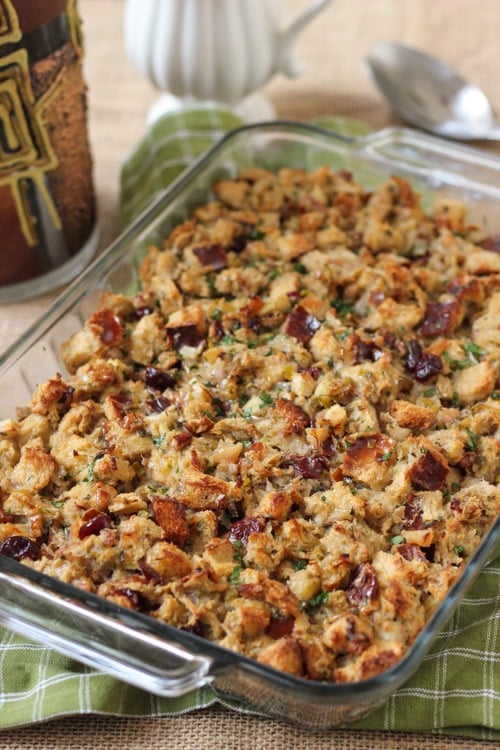 Author:
Olga from Olga's Flavor Factory
Dressing:
1 (1 lb) loaf challah bread
4 Tablespoons butter, divided
1 onion, minced
1 celery, coarsely chopped
2 leeks, sliced thin, whites only
2 apples, Granny Smith, peeled and chopped
¼-1/3 cup dry cherries, coarsely chopped
¼ cup pecans, coarsely chopped and toasted
2½ cups hot chicken broth
½ cup turkey drippings
4 eggs, beaten
thyme, parsley, sage
brush with melted butter on top.
Preheat the oven to 300 degrees.
Cut the bread into 1 inch cubes.
Place on a rimmed baking sheet lined with aluminum foil. Bake in a preheated 300 degree oven for 12-15 minutes, tossing halfway through, until the bread is lightly toasted.
Increase the temperature to 350 degrees.
Meanwhile, melt 2 Tablespoons of butter in a skillet. Add the onion, season with salt and cook on medium high heat for 5-7 minutes, until tender.
Add the leeks, celery and apples. Season with salt. Cook for another 7-10 minutes, covered, on medium heat, until it all softens.
Add it all to the toasted bread cubes. Add the minced herbs, cherries and pecans. Toss until well mixed.
Pour in the hot chicken broth and the turkey drippings, if using.
Add the eggs.
Gently toss all the ingredients together.
Melt the remaining 2 Tablespoons of butter. Use part of it to butter a 13 x 9 inch baking pan and set the rest of it aside.
Place the dressing in the baking dish. Cover with aluminum foil and bake in the preheated oven for 25-30 min.
Uncover the baking dish, brush the top of the dressing with the rest of the melted butter, increase the temperature to 400 and bake for another 25-30 minutes.
Recipe by
Olga's Flavor Factory
at https://www.olgasflavorfactory.com/recipes/ontheside/side-dishes/thanksgiving-challah-herb-dressing/