Breakfast Casserole With Spinach, Ham and Cheese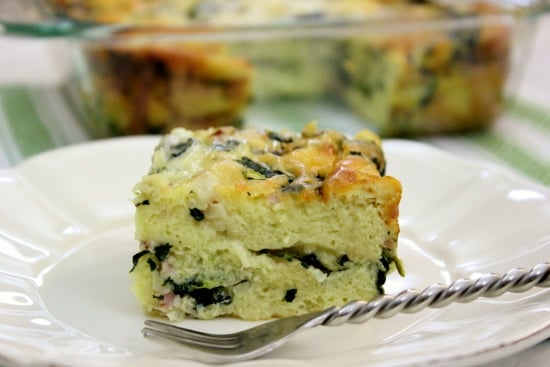 1½ loaves of French or Italian bread
2 Tablespoons of butter, divided
1-2 shallots, minced
5 oz frozen spinach
⅓-1/4 cup ham, diced
½ cup white wine
salt, pepper
1½ cup Mozzarella cheese, grated
6 eggs
1¾ cups half and half
Cut the crust off the bread and slice it into ½ inch slices.
Toast the bread in a 400 degree oven for about 10 minutes, flipping it over halfway through.
Meanwhile, melt 1 Tablespoon of butter in a skillet, heat on medium high heat. Add the shallot, season with salt and cook for about 3 minutes.
Add the spinach and cook for another 2 minutes, until the spinach is warmed through. (First squeeze out all the moisture from the spinach. It will be A LOT).
Add the ham. Set aside.
Pour in the wine into same skillet to deglaze the pan stir with a whisk or a wooden spoon to get all the lovely fond off the bottom of the skillet. Cook on high heat until the wine has reduced to half as much.
Place a layer of bread in a buttered 8x8 inch casserole dish.
Spread half of the filling on top of the bread.
Sprinkle about ½ cup of mozzarella on top of the spinach mixture.
Repeat with a second layer of bread, and top with the remaining spinach mixture. Sprinkle with another ½ cup of cheese.
Whisk the eggs, half and half and reduced wine in another bowl with salt and pepper. Pour over the casserole.
Top the casserole with plastic wrap, laying it right on top of the casserole. Place a weight on top of the casserole. I used another same sized baking pan and put some canned tomatoes on top. Keep it overnight in the refrigerator.
In the morning, preheat the oven to 350 degrees. Keep the casserole at room temperature for about 20 minutes. That's to bring the dish to room temperature, so the glass doesn't burst and also to bring up the temperature of the ingredients, so it doesn't have to bake too long.
Bake for approximately 40 minutes.
Recipe by
Olga's Flavor Factory
at https://www.olgasflavorfactory.com/recipes/breakfast/breakfast-casserole-with-spinach-ham-and-cheese/