California Egg in the Hole Sandwich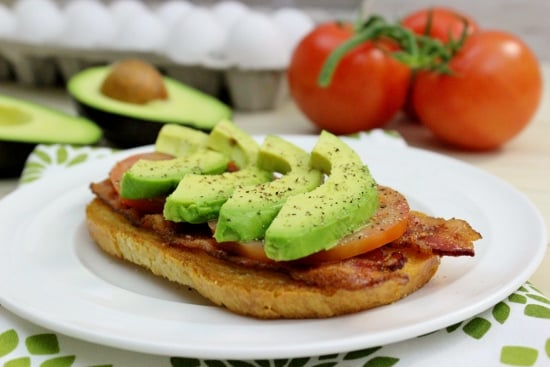 Author:
Olga from Olga's Flavor Factory
4 slices of bread
2 Tablespoons butter
4 eggs
8 slices of bacon, cooked
2 tomatoes, sliced
1-2 avocados
salt, pepper
Cook the bacon; I prefer to bake it in the oven.
While the bacon is cooking, prepare the egg sandwiches. Cut out a hole from the center of each slice of bread. I used a biscuit cutter, but anything will work. You can even cut it out with scissors or a paring knife. It doesn't have to be perfect.
Heat 1 Tablespoon of butter in a nonstick skillet over medium-high heat. When the butter is no longer foaming, place two slices of bread in the skillet. If your skillet is small, you can do one slice of bread at a time. Crack an egg into the center of each slice of bread. Season with salt and pepper.
Cook for about 3 minutes, then flip the sandwich over and cook for as long as you like, depending on if you want the yolk to be runny or fully cooked.
Cut the tomato into slices.
Cut the avocado in half, take out the pit. Use a spoon to scoop out the flesh of the avocado.
Slice the avocado as thick or thin as you like.
Place 2 slices of bacon on each sandwich.
Top with 2 slices of tomato and avocado. Season with salt and pepper. You can also use some fresh herbs on the sandwich, parsley or chives.
Recipe by
Olga's Flavor Factory
at https://www.olgasflavorfactory.com/recipes/breakfast/california-egg-in-the-hole-sandwich/