Cheddar, Bacon and Scallion Twice Baked Potatoes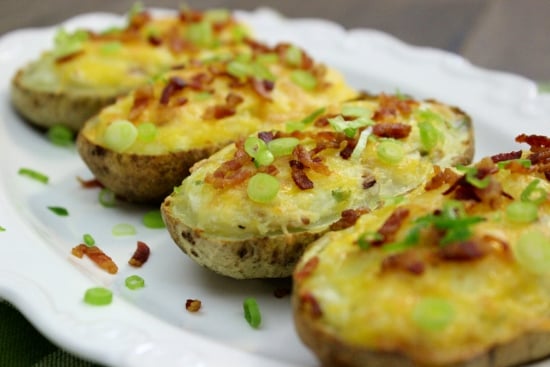 Author:
Olga's Flavor Factory
2 large potatoes, Russet
2 Tablespoons oil
salt, pepper
4 oz cheddar, monterey or coby jack cheese, shredded
3-5 scallions, thinly sliced
2-3 slices of bacon
2 Tablespoons sour cream
⅛ cup milk, scalded
2 Tablespoons butter
Preheat the oven to 400 degrees.
Wash the potatoes, scrubbing well. Dry. Poke each potato with a paring knife, about 3-4 holes per side.
Rub each potato with about a Tablespoon of oil each. You can use any oil that you like. Sprinkle each potato liberally with salt.
Place the potatoes on a rack and into the oven. Place a sheet of foil on the rack below the potatoes, to catch any drips.
Bake the potatoes for about an hour, turning the potatoes over halfway through.
Meanwhile, slice the bacon into small pieces, lardons. Cook on medium heat in a skillet until golden and crisp. Scoop out with a slotted spoon and drain on a paper towel.
When the potatoes are baked through, cut each potato in half. Scoop out the center, leaving a small border around the edges of the potato, just enough to give the potato stability to stand up, without falling apart or folding on itself.
Heat the milk to just about boiling.
Mash up the potatoes with the milk, sour cream and butter, using a potato masher or even a fork. Season with salt and pepper.
Add half of the bacon, half the scallions and half of the shredded cheese and mix to combine.
Place ¼ of the potato mixture into each potato half. Top with the rest of the cheese.
Bake for about 15 minutes, this time placing the potatoes on top of a rack over a baking sheet, until the cheese has melted.
Garnish with the remaining scallions and bacon.
Recipe by
Olga's Flavor Factory
at https://www.olgasflavorfactory.com/recipes/ontheside/side-dishes/cheddar-bacon-and-scallion-twice-baked-potatoes/