Roast Beef Tenderloin With Garlic Herb Butter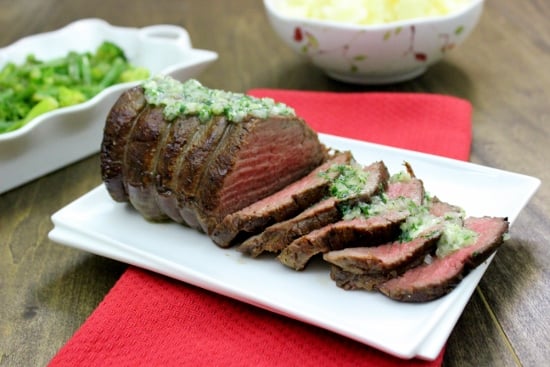 1 beef tenderloin (center cut, 1½ - 2 lbs)
1 teaspoon salt
1 teaspoon ground black pepper
2 Tablespoons butter, softened
1 Tablespoons oil, vegetable or canola
4 Tablespoons butter, softened
1 small shallot, minced
1 small garlic clove, minced
1 Tablespoon fresh parsley, minced
¼ teaspoon salt and pepper, each
Tie the roast with kitchen twine, about 1½ inches apart. This will keep it the roast in a nice tight bundle.
Sprinkle it all over with the 1 teaspoon of salt and let it stand at room temperature for about 1 hour, covered with plastic wrap.
Preheat the oven to 300 degrees, while the roast is "salting".
Pat the roast dry with a paper towel. Rub it all over with the softened 2 Tablespoons of butter.
Place it on a rimmed baking sheet on top of a rack.
Roast in the preheated oven for 55-70 minutes, turning it over halfway through, depending on how thick your roast is and how done you want the meat to be int he center. It should be about 135 degrees for a medium roast.
While the beef is roasting, make the flavored butter. In a small bowl, combine all the ingredients and mash them with a fork. Wrap it in plastic wrap, forming it into a log shape. Place it in the freezer or the refrigerator until it's firm. You can make this a few days or even weeks in advance.
In a large skillet, heat 1 Tablespoon of oil on medium high heat.
Add the beef tenderloin and cook for 1-2 minutes per side, 4-8 minutes total, until each side is a lovely golden color.
Place the garlic herb butter on top of the hot roast, at which point it will start to melt. Let the meat rest for about 15 minutes before you cut into it.
Recipe by
Olga's Flavor Factory
at https://www.olgasflavorfactory.com/recipes/main-course/roast-beef-tenderloin-with-garlic-herb-butter/