Cheese Filled Triangle Twists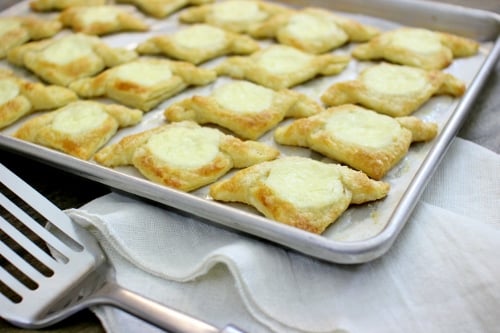 Author:
Olga's Flavor Factory
1 batch Quick Puff Pastry
1 package (7.5 oz.) farmer's cheese
4 oz cream cheese
⅓ cup sugar, plus more for sprinkling on the pastries
1 egg
1 teaspoon vanilla
1 egg plus 1 Tablespoon heavy cream for egg wash
sugar, for sprinkling on top of the pastries
Make the quick puff pastry. You need to make it ahead of time because it needs time to chill. You can also use store bought puff pastry.
Preheat the oven to 400 degrees. Line a rimmed baking sheet with parchment paper.
Make the filling. Combine all the ingredients together.
Lightly beat the egg and 1 Tablespoon of heavy cream for the egg wash and set aside. (You can also use 1 Tablespoon of milk or water instead of the heavy cream.
On a floured surface, roll out part of the pastry dough into a rectangle.
Cut the dough into 3 - 3½ inch squares.
Fold each square into a triangle. Starting from the base of the triangle, cut through both layers of dough to form the shape of another smaller triangle, but don't cut through the top.
Unfold the triangle and lift the two corners that are unattached, slipping one underneath the other and pull through.
Brush the edges of the pastries with the egg wash and sprinkle with sugar. Fill the center of the pastry with about 1½ - 2 teaspoons of the cheese filling.
Bake on the prepared baking sheet in the preheated oven for about 25 minutes.
Recipe by
Olga's Flavor Factory
at https://www.olgasflavorfactory.com/recipes/sweets/cheese-filled-triangle-twists/