Orzo With Roasted Veggies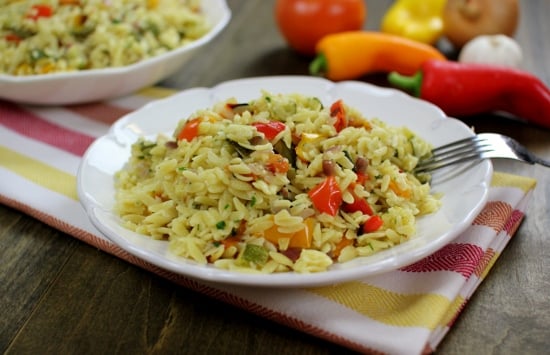 Author:
Olga's Flavor Factory
2-3 bell peppers
2-3 tomatoes
2 large zucchini
1 onion
3-4 garlic cloves
1 teaspoon salt
1 teaspoon sugar
½ teaspoon ground black pepper
¼ cup olive oil
1 lb orzo
1 Tablespoon fresh parsley, minced
Preheat the oven to 475 degrees. Line a large rimmed baking sheet with aluminum foil.
Seed the peppers and tomatoes and chop into ½ inch cubes. Chop the zucchini into ½ -3/4 inch cubes. Coarsely chop the onion and press the garlic through a garlic press or mince with a knife. Place all the vegetables on the prepared baking sheet and toss with the oil, salt, sugar and pepper. Toss it all together to season evenly.
Place the pot of water to cook the orzo on the stove. This way, the water will come to a boil while you're prepping the vegetables. If your water takes longer to boil than 10-15 minutes, put it on the stove earlier.
Bake the vegetables in the preheated oven for 25 minutes. Broil for the last 3-5 minutes. When the vegetables are halfway cooked, the water should have boiled, cook the orzo according to package instructions. Drain.
Toss the orzo with the roasted vegetables and the minced parsley.
Recipe by
Olga's Flavor Factory
at https://www.olgasflavorfactory.com/recipes/main-course/orzo-with-roasted-veggies/