Poached Fish Fillets With Tomato Vinaigrette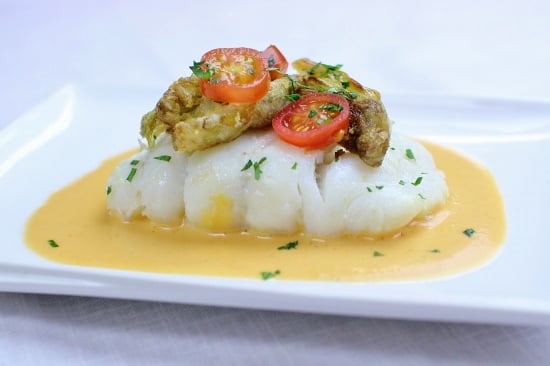 Author:
America's Test Kitchen
4 (6-ounce) skinless white fish fillets, (halibut, cod, sea bass, etc., about 1 inch thick)
salt
1 package (9 oz ) frozen artichoke hearts, thawed, patted dry, and sliced in half lengthwise
2 Tablespoons cornstarch
¾ cup olive oil
3 garlic cloves, minced
½ onion, peeled and cut in half
4 oz cherry tomatoes, plus 2 oz more for garnishing the fish
½ small shallot, peeled
4 teaspoons sherry vinegar
salt, ground black pepper
1 Tablespoon chopped fresh parsley
Preheat the oven to 250 degrees.
Salt the fish on both sides and let it rest at room temperature for twenty minutes.
Thaw the artichokes, drain on a paper towel or clean kitchen towel to get rid of excess moisture and cut in half lengthwise. Toss the artichokes in the cornstarch.
Meanwhile, heat ½ cup of olive oil in a 10-inch nonstick skillet until shimmering over medium heat. Add the artichokes and cook for about 5 minutes, until they are golden.
Add the garlic and cook it very quickly, for about 30 seconds only.
Strain it through a fine-mesh sieve set over a heatproof bowl. Set aside the sieve, since you'll be using it again for the vinaigrette. Place the artichokes and garlic on a paper towel lined a pie plate or anything else that's heatproof to drain.
Season with salt while they are still hot.
Pour the flavored oil back into the skillet and add the remaining ¼ cup of olive oil. Let it stand for about 5 minutes, until the oil reaches 180 degrees.
Place the onion in the center of the skillet.
When the oil is 180 degrees, gently place the fish around the onion, spooning some oil over each fish fillet.
Cover the skillet with a lid and place it in the preheated oven, cooking for 15 minutes.
Use two spatulas to turn the fish over, cover with the lid again and cook for 9-14 minutes longer, until the fish reaches 130-135 degrees.
Place the artichokes in the oven after you flip the fish over, so that they will heat up.
When the fish finishes cooking, take it out of the oil and place on a plate. Cover with aluminum foil so that it stays warm. Turn off the oven but keep the artichokes in there to stay warm while you make the vinaigrette.
Place 4 oz of tomatoes, shallot, sherry vinegar, ¾ teaspoon salt, ground black pepper and ½ a cup of the oil that you used to cook the fish into a blender. Process it until it's smooth. Pour it through a fine mesh sieve to strain.
Pour the vinaigrette around the fish and garnish with the artichokes, thin slices of the remaining 2 oz of tomatoes, and fresh minced parsley.
Recipe by
Olga's Flavor Factory
at https://www.olgasflavorfactory.com/recipes/main-course/poached-fish-fillets-with-tomato-vinaigrette/