Cream Puff Rosette Pastries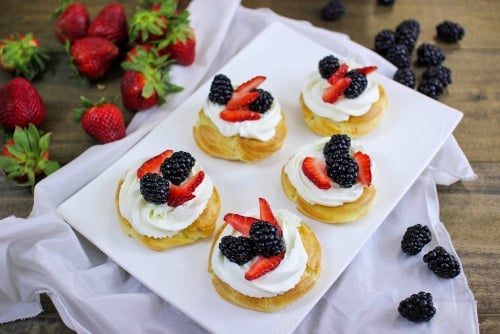 Author:
Olga's Flavor Factory
1 cup milk
6 Tablespoons butter
1 teaspoon sugar
¼ teaspoon salt
5¾ oz flour (approximately 1 cup and 3 Tablespoons)
1 cup eggs (4 whole eggs and 1 or 2 egg whites)
1 cup heavy cream
6-7 Tablespoons powdered sugar
1-2 teaspoons vanilla
chocolate, chopped nuts or fruit (blackberries, strawberries, blueberries, raspberries, kiwi, orange, cherries, etc)
Preheat the oven to 425 degrees. Line a rimmed baking sheet with parchment paper. Place a bowl and whisk attachment into the freezer to chill, to prepare for whipping cream later.
In a medium saucepan, pour in the milk and add the butter, sugar and salt. Bring the mixture to a simmer, until the butter melts.
Add the flour, all at once and stir vigorously with a wooden spoon, keeping the saucepan on low heat, until the dough comes together in a ball and the flour is all incorporated.
Transfer the dough the bowl of a standing mixer and mix for 2-3 minutes, until the steam is no longer coming up as the dough is mixed. This will cool the dough enough to add the eggs without scrambling them.
Place all the eggs into a liquid measuring cup. You need the amount of eggs to equal one cup. You will use 4 whole eggs and 1 or 2 egg whites, depending on the size of the eggs.
Add the eggs one at a time to the dough and continue mixing, until the egg is completely mixed in and is smooth.
Transfer the dough to a piping bag using a star tip. Pipe out the dough into a rosette shape. You should have about 24 rosettes total, 12 rosettes per baking sheet if you are using the half sheet sized baking sheet.
Bake the pastries for 10-15 minutes at 425 degrees. Decrease the temperature to 350 degrees and continue baking for another 10-15 minutes.
When you take the pasties out of the oven, poke them 3-4 times on the side with a toothpick, to release steam and prevent the pastries from becoming gummy inside. Cool.
Take the bowl and whisk attachment out of the freezer. Pour in the heavy cream, powdered sugar and vanilla.
Mix until soft peaks form. It IS possible to over whip heavy cream, so watch it carefully, or you will end up with butter.
Assembling the Pastries:
Pipe the whipped cream on top of the cooled pastries.
Garnish with chopped nuts and shaved chocolate or any fruit of your choice.
It is best to serve these pastries right away. You can make the pastries ahead of time and then pipe the whipped cream and garnish the pastries right before serving. However, I have kept them in the refrigerator overnight and the texture was still perfect the next day. The berries became a little droopy, but otherwise were just as great.
Recipe by
Olga's Flavor Factory
at https://www.olgasflavorfactory.com/recipes/weeknight-dinners/cream-puff-rosette-pastries/