Roasted Chicken Breast and Potato Dinner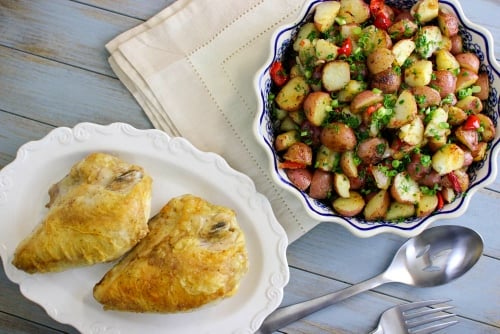 Author:
Olga's Flavor Factory
4 bone-in, skin on chicken breasts
salt, pepper
1 - 2 Tablespoons olive oil
3 lbs small baby red potatoes, cut in half
2 shallots, quartered
1 bell pepper, chopped into 1 -1½ inch pieces
4-6 garlic cloves, crushed
¼ cup olive oil
salt, pepper
¾- 1 teaspoon Montreal Chicken seasoning, optional
fresh herbs, such as parsley, thyme, green onions, dill, for garnishing
Preheat the oven to 400 degrees Fahrenheit.
Pat the chicken dry with a paper towel. Season with salt and pepper on both sides. Set aside.
Cut the baby potatoes in half. You can use regular sized red potatoes or even Yukon Gold potatoes. Cut the potatoes into approximately 1½ inch pieces.
Place them in a medium pot. Pour cold water over the water, just so it barely covers them.
Cover with a lid, bring to a boil, reduce to a simmer and cook for about 7-10 minutes, just until the potatoes are somewhat cooked through.
Drain the potatoes. Don't over cook the potatoes or they will become too mushy.
Quarter the shallots and cut the pepper into small chunks, about 1 -1½ inches, and place them into a large bowl with the slightly crushed garlic cloves.
Add the cooked potatoes to the bowl. Pour in the ¼ cup of olive oil and add about ¾-1 teaspoon of salt, some freshly ground black pepper and 1½-2 teaspoons Montreal Chicken seasoning, (if you like it). You can also add dry herbs such as thyme, oregano, parsley, etc. Toss it all together.
Place the potato mixture into a 9x13 inch baking pan.
Place a rack on top of the baking pan. Brush or drizzle the chicken breasts with a bit of olive oil. You'll need only about 1-2 Tablespoons total.
Roast it in the preheated oven for 35-50 minutes, until the chicken breast reaches 160 degrees on an instant read thermometer. Take the chicken out of the oven, and set aside to rest while the potatoes finish roasting.
Meanwhile, broil the potatoes for 3-5 minutes, turn them over and broil for another 3-5 minutes, until the potatoes are roasted and golden brown. I usually toss them at least 3-5 times, since I like the roasted brown bits on the potatoes. Sprinkle the potatoes with fresh herbs.
Recipe by
Olga's Flavor Factory
at https://www.olgasflavorfactory.com/recipes/main-course/poultry/roasted-chicken-breast-and-potato-dinner/