Creamy Pesto Pasta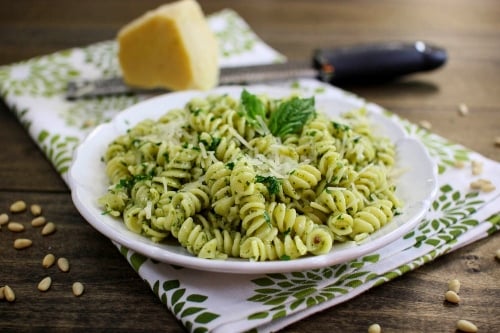 Author:
Olga's Flavor Factory
1 lb. pasta (fusilli, penne,rigatoni, fettucine, etc.)
¼ cup pine nuts, toasted
3 garlic cloves
2 cups packed basil
¼ cup parsley
½ cup Parmesan, divided
salt, pepper
⅓ cup olive oil
½-3/4 cup heavy cream
Bring a pot of salted water to a boil. While you are waiting for the water to boil, start preparing the pesto sauce.
Toast the pine nuts and garlic cloves in a skillet on medium heat.
You can also use other nuts, instead of pine nuts, such as walnuts. I prefer to use pine nuts. They give pesto a very specific taste that just can't be replicated by other nuts. The flavor of pine nuts in pesto is incredible.
The pine nuts will toast up much more quickly, take them out of the skillet but continue to roast the garlic cloves until the garlic is golden brown and tender. Cool slightly, peel and chop coarsely.
Place the basil, parsley, pine nuts and garlic in a food processor. Process until finely chopped.
Add the olive oil gradually until smooth. Stir in ¼ cup Parmesan cheese.
In a small saucepan, bring the heavy cream to a simmer. Add the pesto to the cream and mix to combine.
Add the remaining Parmesan cheese. Season with salt and pepper to taste.
When the pasta is cooked, drain it and add the basil pesto sauce. Toss to combine.
Note: If you prefer a more mild pesto sauce, add only half of it to the cream and freeze the other half. I like a strong pesto flavor. My husband, on the other hand, likes the milder pesto cream sauce version. It's up to you.
Garnish with more Parmesan cheese and minced basil or parsley.