Apple Filling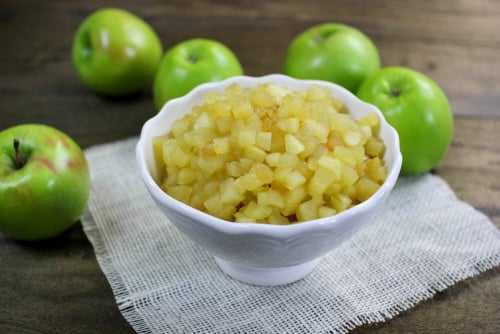 Author:
Olga's Flavor Factory
Recipe type:
Miscellaneous
6 large Granny Smith apples
½ – ¾ cup sugar
juice from 1 lemon
2 teaspoons vanilla
Peel and chop the apples.
You can use many kinds of apples. I prefer Granny Smith apples because they are tart and have the perfect texture. They won't turn to mush when you cook them.
Add the apples and the sugar to a skillet. You don't need to add any butter or water. The apples will exude a lot of moisture as they cook and the sugar will melt, so the're no need to add anything to the apples. Bring to a boil on medium high heat.
Reduce to a simmer, and cook, covered, for about 10 minutes, until the apples are soft.
Take off the heat and add the lemon juice and vanilla. You can also add some cinnamon. I do it whenever I'm in the mood for cinnamon. This time I wasn't.
Cool. Store the apple filling in the refrigerator.
If you want to make a large batch to have on hand, sterilize the glass jar and lid, add the filling to the jar, seal with the lids and place the jar with the apple filling in a pot with boiling water, covering the jars by at least 1 inch. Cook for 10 minutes. Lift out of the pot and cool. I don't usually do this, since I don't have a lot of storage space available and it's really easy to make a batch at a time.