Monte Cristo Sandwiches (Croque-Monsieur)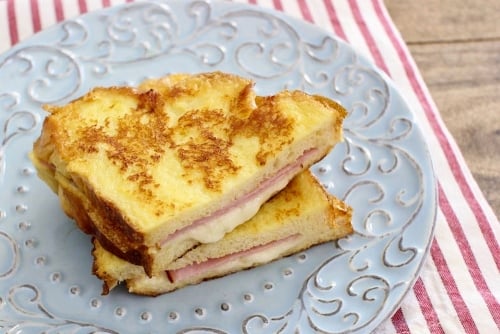 Author:
Olga's Flavor Factory
8 slices Challah, Italian or French bread
4-5 Tablespoons mustard
3-4 oz cheese (Mozzarella, Swiss, Grueyre, Gouda, Provolone, cheddar, etc), grated
8 thin slices of ham (you can also use other deli, such as turkey, chicken, bologna)
butter (to fry the sandwiches in)
3 eggs
1 cup milk
¼ teaspoon salt
¼ teaspoon pepper
Preheat the oven to 400 degrees Fahrenheit.
Slice the bread into slices, about ½ inch thick. You will need 8 slices. I really like to use challah bread for french toast. It is a Jewish egg bread, which soaks up the egg custard perfectly and cooks up into such an awesome texture, fluffy, creamy and yet doesn't fall apart. If you can't find challah bread, Italian bread works great too.
Place the bread on a rimmed baking sheet and toast the bread in the oven for 5-7 minutes, flipping it over halfway through. The point of "toasting" it, is to dry it out, not actually get any color on it. Have you ever had French Toast where the custard is only on the outside of the bread and the center is just plain bread? This is why. When the bread is dry, it will soak in the custard perfectly.
If you think ahead, slice the bread, place it on a cooling rack and leave it to dry overnight. You won't need to dry it in the oven.
Spread a thin layer of mustard on each slice of bread. It will act like glue and hold all the filling ingredients in place. If you don't like mustard, you can use mayo or butter instead.
Place 1-2 slices of ham on one side of the bread and some grated cheese on the other slice of bread and gently smoosh the two slices of bread together.
Repeat will all the bread, ham and cheese. You can use all kinds of deli, cheese and herbs in this sandwich.
Mix the ingredients for the egg custard in a rimmed container with a whisk or fork, just until combined.
Dip each sandwich in the egg custard, making sure that each side gets totally submerged for about 20-30 seconds each.
Melt the butter on medium heat in a 10 inch skillet, stainless steel or cast iron, preferably.
If your skillet is not a really great quality skillet, don't attempt to make french toast in it! Your sandwiches will stick to the skillet and you'll create a messy glop. In that case use a nonstick skillet.
Cover the skillet and cook on medium low heat until each side is golden brown.
If your skillet browns too quickly, place the sandwiches in a 300 degree oven and continue cooking until it cooks through in the center as well as on the outside.
Recipe by
Olga's Flavor Factory
at https://www.olgasflavorfactory.com/recipes/breakfast/monte-cristo-sandwiches-croque-monsieur/