A Few of My Favorite Things July 2015
One of my favorite posts to read on other blogs and favorite videos to watch on YouTube are Monthly Favorites. This is where people usually share their favorite products, usually related to the type of blog/channel they have, such as beauty products if it's a beauty channel, etc. I borrowed the idea from one of my favorite blogs, andreadekker.com, where she also shares her monthly favorites.
I'll be sharing all kinds of things – cooking tools, household items, baby things and anything else that makes life easier and I really enjoy. Some of my monthly favorites aren't things at all. I hope some of these reviews will help you find products that are helpful to you, as well as saving you money on trying multiple other products, like I did. If anything, you can just read my thoughts and see if it's something you would be interested in. I would also love to hear about your favorite things, so please share. 
1. Rubbermaid Reveal Spray Mop
I've been looking for a good mop my entire married life. I've tried many different kinds of mops and I just didn't like any of them. I just resigned myself to washing floors with a rag on my hands and knees. It was fine when we lived in apartments, where most of the floor space was carpeted except for my tiny kitchen and bathrooms. When we moved into our house last summer, the entire 1700 square feet is bamboo flooring. Even though we love our floors, it's not my idea of fun, crawling on my hands an knees cleaning.
This mop does such a thorough job, with minimal effort. I love that there is a spray bottle attached to it, so I don't have to keep dunking the mop in a bucket of water.  Another great thing is that you can just detach the mop pad and just throw it in the laundry.
This nifty tool doesn't take up a lot of space, and I use it all the time. Most often I use it to zest lemons, limes and oranges and it does such  beautiful job of finely shredding Parmesan cheese too. It's really sharp and you can use it for so many other things, like grating onions or garlic into meatballs, grating chocolate into tiny, magical chocolate dust, grating ginger, etc. I've had mine for years and it's still just as sturdy and sharp as when I first bought it.
3. Women's Mad Love Lydia Loafer
I accidentally stumbled onto these shoes in Target. I've worn them all month. They are one of the most comfortable shoes I've owned. They are so easy to throw on, are very light, but not flimsy at all. I really like this gray color, since it goes with almost any outfit. The price is great and I think they're really cute.
They are perfect for grocery trips, library outings, walks around the neighborhood, getting together with friends and any other casual excursions. I actually just bought myself a second pair. When I wear them out, I highly doubt Target will still carry them. I want to have a new pair stashed in my closet. They are still in stock on their website right now, so I thought some of you might want to pick up a pair.
4. 
Amco Enameled Aluminum Lemon Squeezer
Since I use lemons all the time, this tool has also been a favorite for many years. I use it almost every day. It squeezes out every last drop of the lemon and keeps the seeds in. There are juicers specifically made for limes and oranges too, but since I don't like unitaskers, I just use the same one for all three, I just cut the orange into smaller pieces.
5. Chicco Next Fit Convertible Carseat
I can't believe we already switched Nathaniel from his infant car seat into this convertible car seat.
When he was a newborn, he did great in the car and was such a happy baby. When he grew a little bigger, I didn't know what to do with him anymore. He would cry almost every time that we would drive anywhere. No matter what we tried, nothing helped. It didn't even cross my mind that it could be something to do with his infant car seat, since it can be used up until the time he is 30 pounds. I have to take him with me on all my errands, and my Mama heart would just cry along with him, as he would scream for 20-30 minutes straight. I had to pull over several times just to comfort him, but as soon as I would start driving again, he would start screaming again. Finally, I did some research online to see if any other parents had any ideas. The #1 thing that kept popping up everywhere was that the infant car seats were the source of the trouble. Parents from many different sources said that as soon as they changed the car seat, the baby was content again. Well, I was skeptical, but I was ready to try anything at this point. I figured that we wouldn't actually lose anything, even if he kept screaming, since eventually he would need to be switched to a bigger car seat anyway.
I did a lot more research, wrote down some possibilities and we took Nathaniel to a baby store to test out the different options. We actually strapped him into the car seats to see how it would fit. In the end, we decided to get this Chicco Next Fit Convertible Car Seat. I really like that the straps are nice and soft and don't cut into his neck, chest and legs. The material seems really comfortable and doesn't get too hot, which is a really big deal here in Florida. One of the parents reviewing this car seat described it as a La-Z-boy for babies and I completely agree.
The big test came when we drove to Orlando (which is a few hours away) and then to NY, more than 20 hours away. I couldn't believe my eyes and ears. Nathaniel was actually playing with his toys, cooing and babbling in the backseat, and took long naps too. It was a night and day difference.
This car seat also reclines, which is great when Nathaniel is napping, and it is SO easy to install. This car seat is for both forward facing and rear facing, and can fit a baby as small as 5 lbs, all the way up to 65 lbs. (A great tip I have, is to try to get a coupon. If you sign up for Buy Buy Baby emails, they will send you coupons. We got ours on sale and used a 20% off coupon.)
We've been grilling a ton this month. Our old skewers were becoming bent out of shape and the coating was flaking off. I found these stainless steel skewers and couldn't be happier with them. They are much more sturdier that my previous ones, it's easy to thread food onto them, and they don't have any coating, so I don't have to worry about it flaking off. I bought the 12 inches size, but they also have 14 inches available.
7. 

Against the Tide

by Elizabeth Camden 
When I first read this book, I couldn't put it down. I read it just two days. I also read it a loud to my husband too. It's full of mystery and drama and isn't sappy, so I knew he would enjoy it. Every time we would drive anywhere together, this book came with us. We probably finished reading it in a week, and he enjoyed it just as much as I did. I've reread it several times already.
It keeps you in suspense, the characters are very real and relatable. I love reading fiction, especially historical fiction, so this was a perfect fit. However, one of my pet peeves in reading fiction novels that is so many of them are shallow and fake, and I feel my brain cells dying while I'm reading it. I don't even waste my time finishing them. This one was very well written, the story line was very interesting and thought provoking.
The story takes place in Boston, where the main character, Lydia, works as a translator in the US Navy, which is very unusual for a young lady of that time. She is very smart and gets involved in the underground work of abolishing the opium trade. I'm don't want to give too much away, but this book was definitely worth my time. If you're looking for something new to read, I highly recommend it.
Now for my most important favorites – the intangible ones.
Getting my PICC line out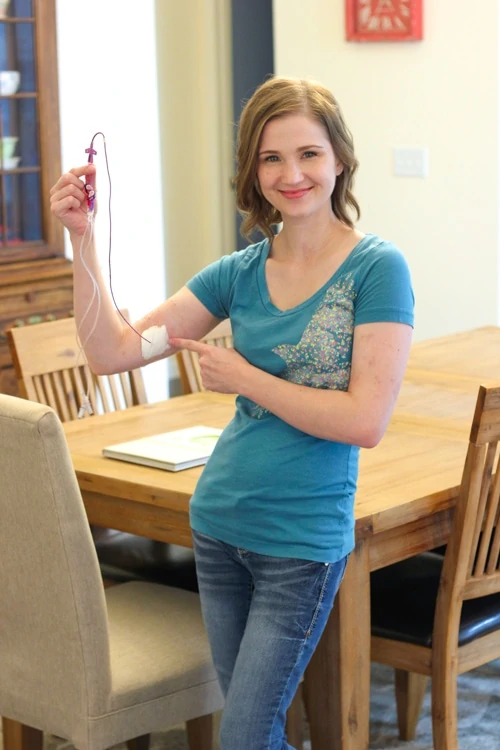 If you're not aware, I had a PICC line in my arm since September 19, 2014. I had a really difficult pregnancy and recovery, so I was receiving IV infusions this whole time. Finally, on the day that Nathaniel turned 5 months, I had the most normal labs since before I got pregnant. The next day, on July 24th, the home health nurse finally took out this foreign object out of my arm.
I was so happy and still am amazed that I finally feel much more like myself. I know it will take my body a little bit more time to completely recuperate, but I am thankful to God for his healing and for blessing me with wonderful doctors and that I was able to be get medical care at home. If I spent all day, from sunup to sundown, on my knees thanking God, it wouldn't be enough to express my gratitude.
Maximus born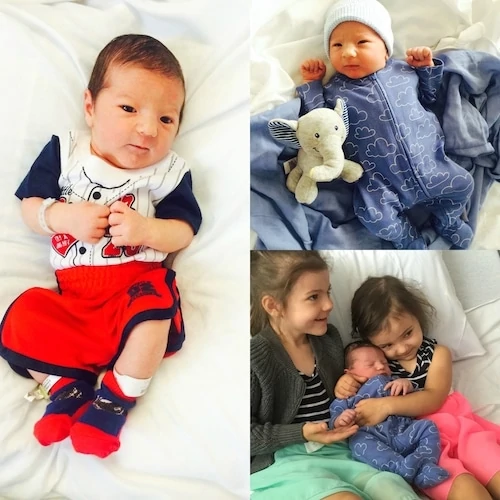 On July 4, 2015, my new nephew, Maximus, was born. We are thrilled to welcome another little boy into our family. He is so loved by all of us and especially his two big sisters.
Family visiting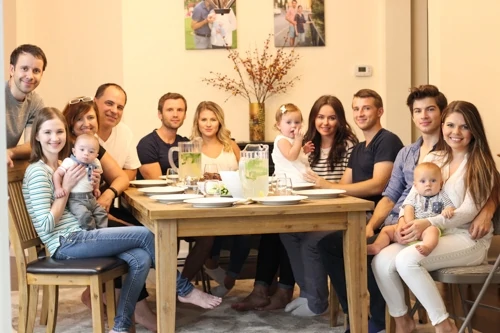 My aunt and uncle came to visit us from Ohio, and we had a wonderful week with them. My brothers and sister visited with their families as well, so we had some great times all together. We love spending time with our families.
Favorite Bible Verse
A Bible verse that has been significantly meaningful to me this month and throughout my pregnancy, was this one:
"You will keep him in perfect peace,
Whose mind is stayed on You,
Because he trusts in You."  Isaiah 26:3
God is always faithful. It's not always easy to trust Him, but when I do, He gives me such a perfect peace, that I can't explain it. It's so comforting to know that he has everything in His control.
I'd love to hear about your favorite things too. Have you ever tried any of the products that I talked about? Are there any cooking, household, baby items that you think I would enjoy?
Disclosure: There are affiliate links in this post. This simply means sometimes I recommend a product or service and if you choose to purchase that product or service from my recommendation, I will get a small referral commission. Of course, this is at no extra cost to you but it does help to pay a tiny bit for the work I put in to creating recipes and sharing tips with you. I really appreciate your support. Thank you. The main intent of this post is to simply share my experience with you, so if you happen to find a great deal on a product I recommend at a garage sale, anywhere else online, or at a store, by all means, take advantage of it:). I won't be mad, I promise.