Keeping myself organized is something that has made me happy ever since I was a little girl. I was one of the weird children that would write to-do lists and clean my room and organize my books and toys for fun. Now that I am an adult, I am still an avid planner and have perfected my system through the years. I went from writing lists on random pieces of paper that my husband would tease me about when he would find them all over the place, to trying out different planners and methods to finally finding the system that works really well for me.
What I use today is a very simple planner and several notebooks.
The first notebook is this Moleskin journal.
I bought a packet of several moleskin notebooks on sale a while ago and am still using it today. Any notebook in the medium size does the job for me. I love that it's thin, not too big, easily fits into my purse and has thin lines. I affectionally call this "My Brain". I find that I really need some place where I can jot down everything – all my projects, to-do lists, ideas for the blog, for my home, for our family, etc. This is where I brainstorm and where I write down anything that I might want to remember later. When I say brainstorm, I really mean "storm". I write down everything that comes to mind and don't bother too much with organizing it too much at this point. I may put something down on my to-do list that I don't plan on doing for awhile, but I want to make sure not to forget about it.
I'm pretty sure I write in it and read it every day. Right now I am in the depths of planning out Nathaniel's first birthday party, so I have lists going on for decorations, food, things that I need to do, order online, etc.
My planner keeps "My Brain" in check and on task. This is a planner that I've been on the hunt for and finally found a year ago; it's called a Homemaker's Friend Daily Planner by Sue Hooey*. It's as though it was made with all of my specifications in mind:). After trying many different planners throughout the years, I figured out that simplicity works best for me. I was using another simple Blue Sky planner that I bought at Target for a few years and it also worked great, but the planner that I use now has a few additional features that I really enjoy. After using this planner for a few months after getting it last year, I already knew that I would be getting another one this year and now after using it for more than a year, I am even more happy with it.
First of all, at the beginning of each week, I sit down and write out my weekly to-do list, which is conveniently set up at the top of the weekly spread out page.
This is when I look through my notebook and read all my plans, to-do lists, projects, menu plans, ideas and try to organize it into what needs to be done in the coming week.
I also look through the monthly page to see if I have any appointments or other events coming up for that week.  
Every evening (or sometimes morning) I plan out the coming day and write out my tasks for that particular day. I like using the weekly set up, with just a small space for each day, because it helps me to stay focused on what is most important for me to complete on that day. I write the most important tasks at the top of the page. If I have extra time, I can always look back to the weekly to-do list and finish something else on that list. (Who am I kidding? I'm lucky if I even finish the things I put on my daily list!) I also like that there's a space in the corner of each day for writing in the meal. I recently recorded a video on Menu Planning, so you can see how I do that there, but basically, I write out my Menu Plan in my notebook and then every evening I look through the Menu Plan and decide what I will be cooking the next day from that list.
In the back of the planner, there is a handy dandy place for shopping lists.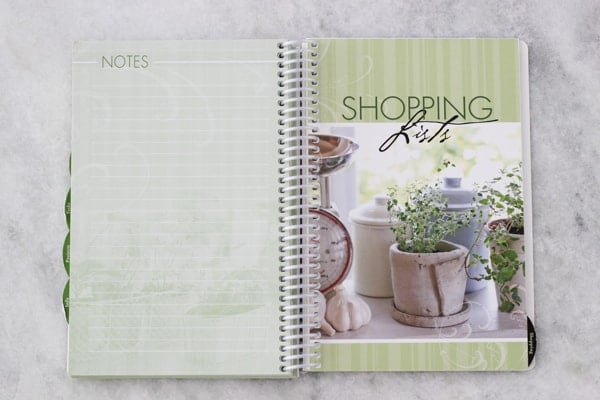 While I am menu planning, I write out my shopping list and anytime I notice that we need anything else or we run out of something, I will jot it down there.
I like how it's broken down into thin strips and once you use that list, you can simply tear it out and start fresh. What a good use of space!
There are also sections in the back of the planner for Tasks and Projects.
This is where I write out the organized lists of "My Brain". My husband and I are always working on different house projects, so I write down all the projects that we'd like to do and then we decide what we have the time and the budget for.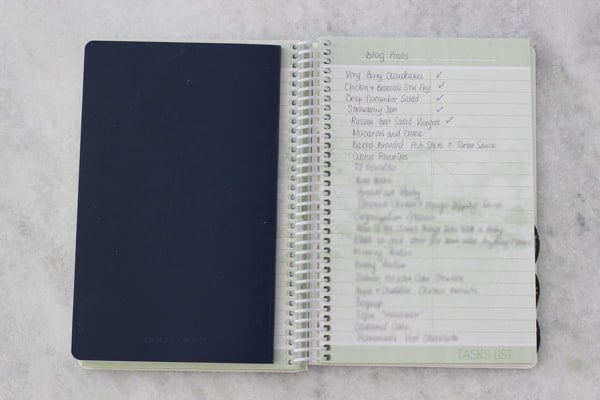 This is also where I write down the blog posts that I want to do, books I want to read, etc. I look through all the blog post ideas that I write in my Moleskin journal and narrow it down to the ones that I want to do in the next month and a half.
This planner has more than enough room for everything I need and it also easily fit into my purse. Also, the price is really great too – I only paid $12.59 for it. Now, that's a bargain!
I also have a designated small notebook for recipe testing.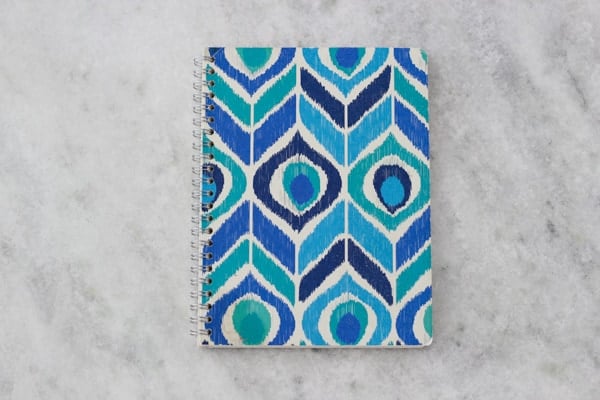 Anytime I am doing a new recipe, I write down all the ingredients and the method while I am cooking or shortly after I am finished. I used to not write things down at all, or write it down in random places, but I learned that if I didn't have a designated place to put the recipes, I would lose it. Even if you're not a food blogger, I would suggest having a recipe book to write down the recipes that you come up with. If you print up recipes from other places, like online or cut them out of magazines, etc, make sure to write down the adjustments that you make, so that next time you want to make that dish, you will remember the things that you did to adjust it to your family's preferences. I keep my recipe notebook in the kitchen in one of the drawers, so it's always conveniently nearby when I'm cooking. I've filled up several of these notebooks already.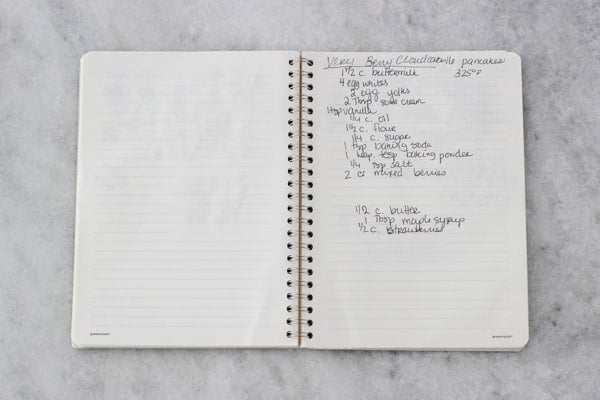 Now that you've had a sneak peek into my planning routine, I have to admit that even with all my planning, there is rarely ever a time when everything gets crossed off the list and there are many weeks months that things from one to-do list keep having to be moved to the next week, to the next and the next. That's just how life is; there is never a time when everything is done and nothing will ever be perfect. Of course, there are many things out of my control, and I have had many times in the past few years where I have lots of blank spaces where survival was the most important thing on the list:). However, planning does help to get things done and to keep me on task to get the most important things done first, because there are so many things that could take up my time, but are not as important.
Every person has a different personality and lifestyle, so my method may not work for you, or maybe you are the person who prefers to "fly by the seat of your pants":). That's cool too!
It's such a satisfying thing when I can happily cross something off the list. It's like a beautiful bow on a project well done.
How many of you are planners too? Do you like using stickers and making your planners look pretty? What sort of planner do you use?